This page will evolve and change as we find pieces, accents and furniture we like.
Like many of you, we are going up in sqft and have a lot of rooms to fill. It will be an ongoing effort that will probably take us some time. If it weren't for the fact that we were so impatient, the phased approach would be fun (more fun).
_______________________________________________________________________
The Palette:
Wall Paint - Sherwin Williams Pavilion Beige (1 of the 3 colors you can choose in the paint package). This will be painted throughout the entire house and serve as the starting point for accent walls and other colors.
Will be painted on every wall of our house by RH
Trim and Moldings - White
5 1/4" Baseboards throughout house
3" Door Casings throughout house
Double Crown Molding in:
- Foyer
- Living Room
- Dining Room
- Study
- 2nd Story Hall
Double Chair Rail in:
- Foyer
- Dining Room
- 2nd Story Hall
Paneling in Dining Room (From the Chair Rail Down - Pavilion Beige on Top)
Flooring - Dark Hand Scraped Hardwood
Armstrong American Scrape Brown Bear
_______________________________________________________________________
Formal Living Room:
This space has the hardwoods shown above and will start with the Pavilion Beige paint color. We have the 5 1/4" baseboards and double crown moldings. There are round pillars flanking the entrance to the space.
The La-Z-Boy Malina Premier sofa will be the center piece for the formal living room. The fabric is called Hemp (SKU: D107531) not quite white but a very light color. The fabric feels like a chenille. The turned legs come in a darker finish called coffee, we prefer that finish to match our floors and other accent pieces. We really liked the curved and tufted back. We were going for a more traditional and timeless look for this room.
La-Z-Boy Malina Sofa
This chair is made by Kincaid (a La-Z-Boy company) but is also sold in the La-Z-Boy stores.
Kincaid Name: Bordeaux
La-Z-Boy Name: Elisabeth
We are looking at two of these chairs, both in a coffee finish to match the turned legs on the sofa.
UPDATE: We had originally picked up a Traditional print with an olive base color. We thought it was too dark so switched to this butter cream gold color. It has a lot more sheen than this picture shows.
Fabric Chair #1: Joda (D969137)
Elisabeth Chair with xx Fabric (coffee finish not shown)

For some reason the picture of the Fieldstone above looks a lot darker and more green than the swatch in the store. There is a picture of all these fabrics together below. It shows a lot more dimension, texture and sheen in person.
Fabric Chair #2: Seamist (F102272)

Elisabeth Chair with Seamist Fabric (coffee finish not shown)
Actual Picture in store with lighter wood.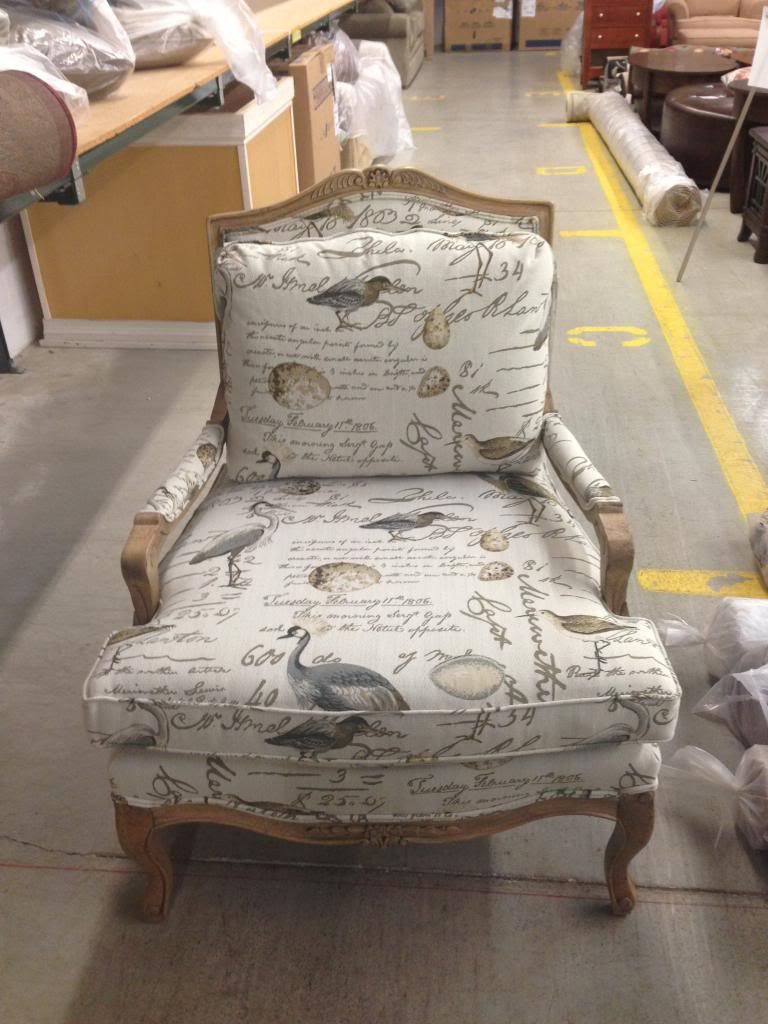 Kincaid Chair but in Coffee Finish
Here are the fabrics for the two Elisabeth Chairs and the Malina Sofa.
Fabrics for Sofa and Chairs
Cocktail Table for Formal Living Room.
Kincaid Sturlyn Cocktail Table
End Table for Formal Living Room. We are thinking about doing an Asymmetric Design where we will have one of these tables on one side and something else on the other. Like a floor lamp, round or oval table, etc.
Kincaid Sturlyn End Table
Area Rug for Formal Living Room. There are some greens and browns in the two chairs, so we would want to bring in those colors while providing contrast to the light colored couch, the dark wood floors and coordination with the Pavilion Beige walls.
Found this rug at Rite Rug.
Other Items Needed for Formal Living Room:
- Art Work
- Mirror apposing front windows
- Metal art in between side windows above couch
- Curtains
- Full length panels
_______________________________________________________________________
Dinette:
This space has dark hardwoods (as pictured above) and is in between the kitchen with Cream cabinets and a lighter color granite (Santa Cecilia). There is also access to the butler pantry/dining room, laundry room and the back set of stairs going up to the 2nd floor and stairs going down to the basement. Additionally the French doors leading to the back yard are off the dinette. It serves as a transition area for al these spaces. The table and chairs could act as much as a gathering space as a place to eat.
When we were looking for the Wood Furniture we really wanted pieces that are going to last longer than us. So that meant they had to be made from solid wood (not particle board), constructed well and have a timeless design. There are a few manufacturers out there that meet these requirements. Kincaid is among them. The Amish make solid furniture too but it tends to look to country and boring for our taste.
The set below will go in our Dinette.
Kincaid Sturlyn Collection Round Table in Onyx Finish
60" Round Dinette Table
Arm Chairs for Round Dinette Table
This is the light fixture that is included in our lighting package that will be centered above the table.
Dinette Chandelier
Other items for the Dinette we need to find and decide on.
Rug for under the Dinette table. At Riterug.
Allure - Beige/Red
Side board, server or built in cabinets. There was an option to add a built in buffet in the Dinette. We thought it was a little over priced...until we priced it at Home Depot (American Woodmark). Granted even though they carry the same cabinets, HD's are a step above what RH uses. They have the cushion close drawers and other standard features not included with Timberlake. The price of the built-ins, although very beautiful, would be the same cost of an heirloom quality piece of furniture.
This is the piece we are thing about. Not sure if we want to put it in the Dinette or Formal Dining Room.
Kincaid Sturlyn Server in Onyx
_______________________________________________________________________
Formal Dining Room:
This space has dark hardwoods, double crown moldings, chair rail and paneling on the bottom of the wall (all in white). It also has a lit tray ceiling and again the walls are Pavilion Beige. There is access to the kitchen through the dining via a Butler Pantry with a cased entry way, cream cabinets and Santa Cecilia granite.
We wanted this space to be traditional and elegant. It is one of the first rooms you see when you come in the house.
Dining Room Table:
Kincaid Sturlyn - Pedestal Dining Table in Onyx
Kincaid Sturlyn - Dining Table
Kincaid Sturlyn - Dining Table
Kincaid Sturlyn - Dining Table
Dining Room Chairs:
Dining Room Captains Chairs: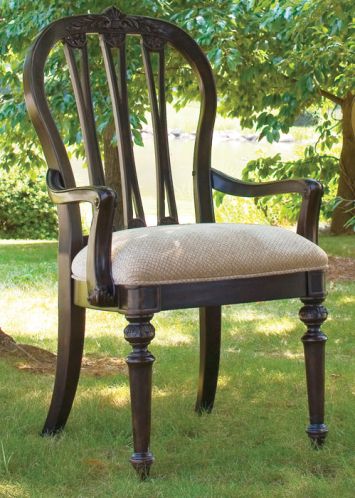 Kincaid Sturlyn - Captains Chair in Onyx
Dining Room Side Chairs:
Kincaid Sturlyn - Side Chairs in Onyx
Server/Buffet:
Kincaid Sturlyn - Buffet (no hutch) in Onyx
Area Rug for under Dining Room Table. Again found it at Rite Rug.

Lights for Dining Room:
Dining Room Chandelier
Rope Lighting for Tray Ceiling:
Rope Lighting in Tray Ceiling
Rope Lights behind Crown Molding
Hampton Bay Rope Lighting (Home Depot or Lowes)
Lamps on Buffet or Sconces on wall
Pier 1 Imports - Glass Lamp w/Gold Leaf
- Artwork
- Mirror above buffet
- Curtains
_______________________________________________________________________
Family Room:
We are looking at this sectional for our Family Room. Because this space is more of a living space rather than a formal space, we want it to be more comfortable and less traditional. We are looking at a neutral color like what's pictured but not quite that fabric.

Broyhill Veronica Sectional
I like having an upholstered ottoman instead of a traditional coffee table. This way you can put your feet up and relax. Also with one that is a bit firm, you can put a tray on it and use it for drinks, snacks, etc. We may end up with a round one here due to space around the chaise.
La-Z-Boy Luca Ottoman
Area Rug for Family Room:
Allure - Brown/Beige
Sofa Table either behind the sectional or across the hall under the stairs. There is a little alcove where you could put something like this with accents/lamps on it.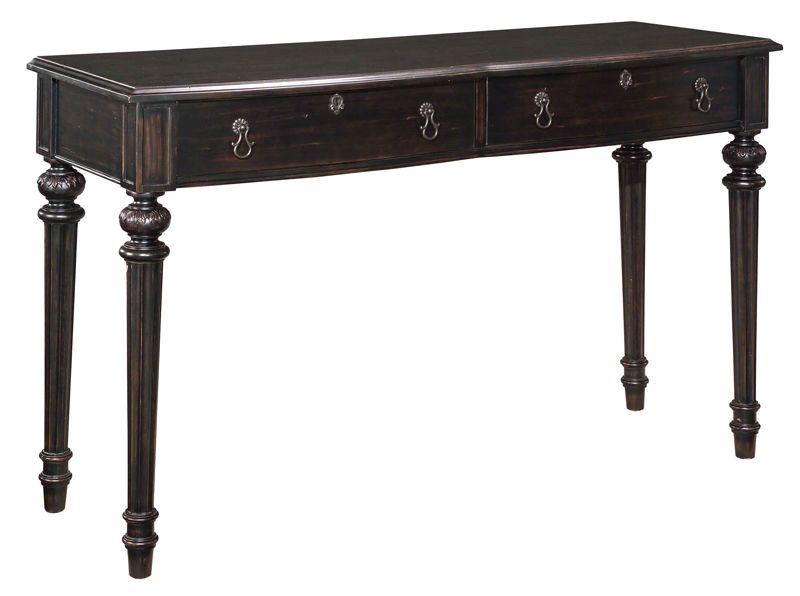 Kincaid Sturlyn - Sofa Table in Onyx
Entertainment Console/Wall unit:
I like the design of this unit but it doesn't come in a wall unit. We've considered just using one of these consoles, then mounting the TV on the wall (hiding the wires in the wall), flanking it with chairs and putting art work on the wall to make it look less bare.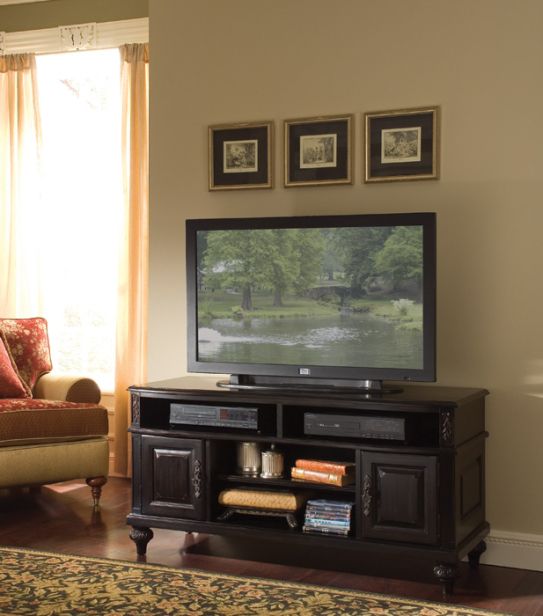 Kincaid Entertainment 65 (the 56" is shown)
Other Chairs flanking the entertainment center to take up space on the wall and provide additional seating (not TV viewing).
Maybe something simple like these accent chairs. We've considered chairs that would swivel, especially near the fireplace so could swing around and sit in front of it.
Pier 1 Imports - Liliana Armchair in Sand Ironwork
- Artwork (Above Fireplace, on TV wall and above Sectional)
- Curtains or Valances?? Lots of windows on either side of fireplace. We plan on putting in faux wooden blinds but will place valances or curtains where applicable.