Had our lot staked and did our Pre-Construction meeting today.
Oh, and our county approved our Permits on Monday (3 days early).
With the stakes, I can almost picture our house on the lot. I'm pretty sure this is not to scale, and yes I nearly failed kindergarten because I couldn't color or paint (No joke).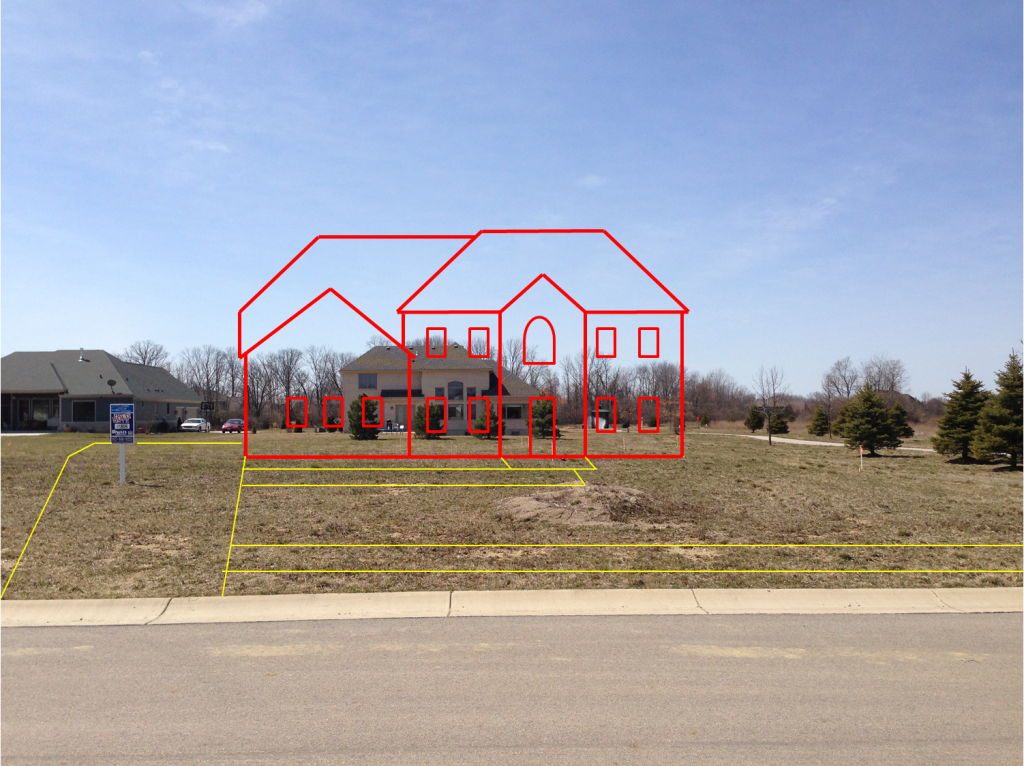 I can almost picture our house on the lot!
First the stakes:
I underestimated a few things.
1.) How big this lot really is, compared to the other communities we looked at. Those trees at the end of the lot are growing over our property line. The stake to the right with the orange flag is the right side of our lot and the left side isn't even in the picture but the RH sign marks about 1/3 of the lot (so about 30' in from the left hand side of the property line).
2.) How BIG this house is. If I think the lot is big, well, I was in for a surprise when I saw how much of the lot the house covers. The driveway touches the property line to the left and the right side of the house is only 11' from the property line. standing at the back of the house, those trees look awful close.
3.) How much I would enjoy standing in an empty dirt lot looking at stakes sticking out of the ground and imagining what room(s) we were standing in. From that point of view, the house seemed smaller than we expected but we know that is not a fair representation of the space. Especially with as high as the ceilings are in this house. Other than looking at pictures of the one Blog that exists out there, this was the first time we could really imagine what this house might look like. There aren't any models out there.
The Pre-Con meeting:
Only one surprise. Our start date slid 2 days to the wrong (right). :( Honestly at this point, I am not surprised by this. So instead of starting Monday, 15 April...we will be starting Wednesday, 17 April. In our region they buy their lots on Monday, so we could have not started on that date; which was provided to us by the DM. This is kind of a big oversight, not sure how it happened. I've lost count of strikes at this point but in a game of baseball we would have won by default. Only in this game we are the losers.
The meeting. As I've read on other blogs and reports I've received from other builders in our community, our PM was extremely knowledgeable and very easy to communicate with.
The PM clearly understood what we wanted and was very thorough in going through each detail. I have little concern that he will not be on top of the process and bring us in on-time. He was very receptive to requests that were within his control and had some good ideas we had not thought of. I appreciated his patients and eagerness to answer our questions and provide us with information that would only really satisfy our curiosity but not impact the build. Overall we left with only one question unanswered and he had to make some phone calls to get the answer. It's not going to stop or slow down anything but I would like to have the answer.
One other positive thing. Due to the fact that RH stopped offering this home for some time, there aren't that many people out there that have even seen one, let along built one. Our PM has not only seen them, but has built a few of them. This is a definite positive and should help with our tight schedule.
Now more waiting...ughhh!