First off, this would be Day 8 of framing but they didn't actually come in and finish the job. The basement wasn't finished and the punch list the PM made hasn't been worked through. I think having the HVAC guess here through them off, so they are all over on a house behind me. Hopefully they will be back soon to finish up.
Lots going on today. HVAC, Roofers, Garage Door installer and some door handles. We should see the plumbers this week, hopefully a finished roof (if weather allows for it) and electricians late this week or next week.
They put plastic tarps over our oak stairs just in case the roofers don't get shingles on before it rains. There are Roof Vents all the way across the ridge of our roof. Basically like keeping the window part of the way down in your car during a down poor. Our house is finally getting aired out, I would really hate to get more water inside. They hooked up the sump pump again and it has flooded the entire side of our yard. A real mess. I can't believe how much water was down there.
Finished the roof returns
The framers finished the roof returns last night and the roofers started putting down tar paper this evening.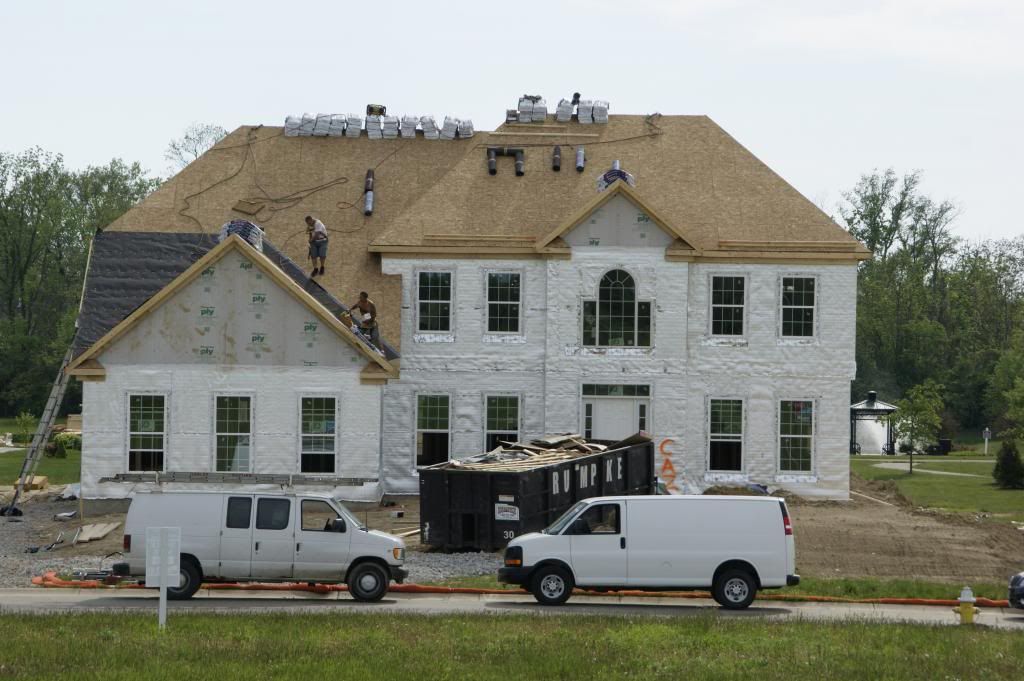 Pic with Gable Returns and Roofing started

Returns over Garage Gable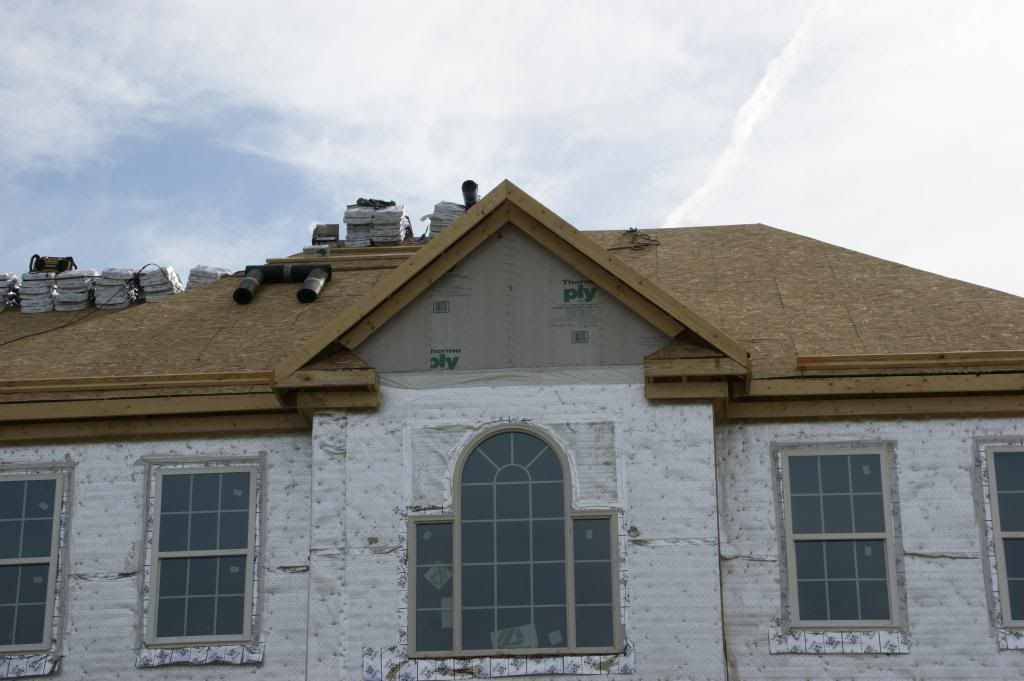 Returns over Foyer Gable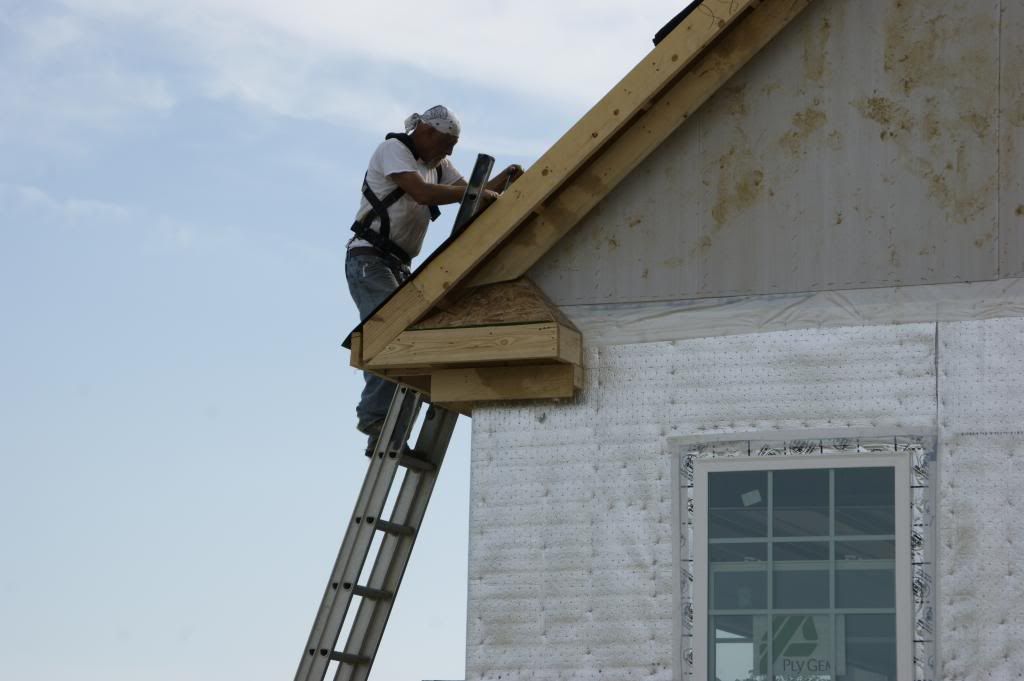 Roofing Started
Fixed ridge in roof
One of the ridges on our roof was really messed up. I've really been trying hard to be a spectator of the process and not get in the way. I have every confidence in our PM and nearly everything I've noticed has been caught and corrected. There have been a few, like the pictures below where I was worried they wouldn't get fixed in time for the next trade. I figured they were going to start roofing today (which they did), and if this wasn't fixed, it would be too late. I went against my own goal and sent him a text this morning. He hadn't seen it. In all fairness it is over 25ft off the ground and if it weren't for my telephoto lens, I may not have seen how bad it was. He got his framers on it right away, and although it isn't pretty, it will give us a straight(er) roof.

Roof Line - BEFORE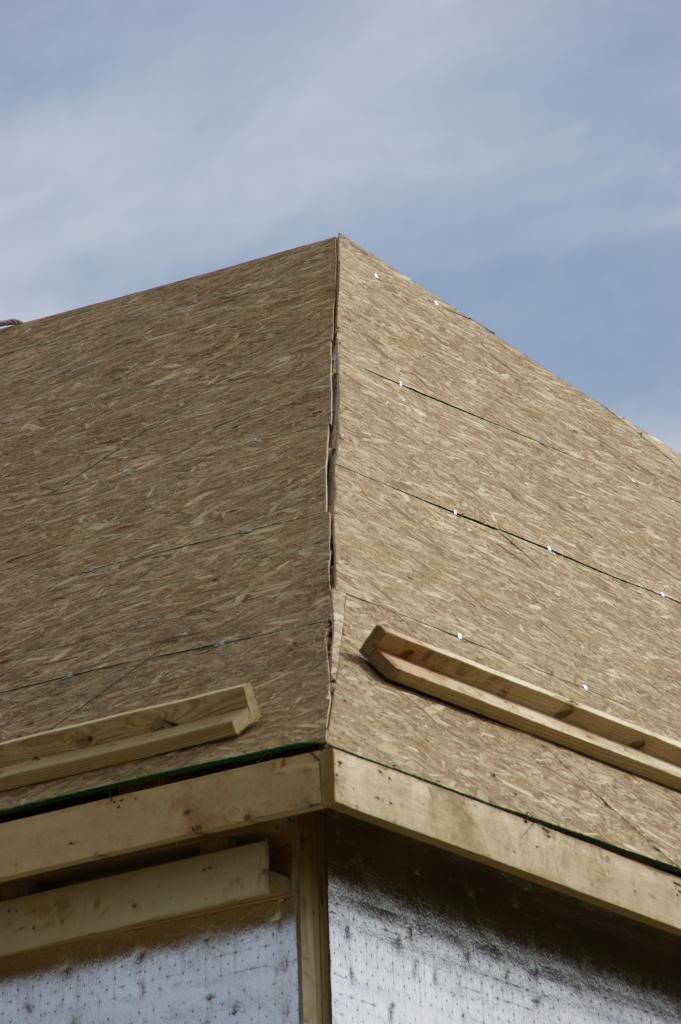 Roof Line - AFTER
HVAC Started
Lots of things happening with this crew. Dryer vents, bathroom fans and vents, heating/air ducts, etc. Oh and that Tree House is our 2nd Furnace for the upstairs. All our previous houses have been lopsided with hot/cold air distribution. There is always one floor or side of the house that is uncomfortable no matter what you do. This I hope, will solve that problem.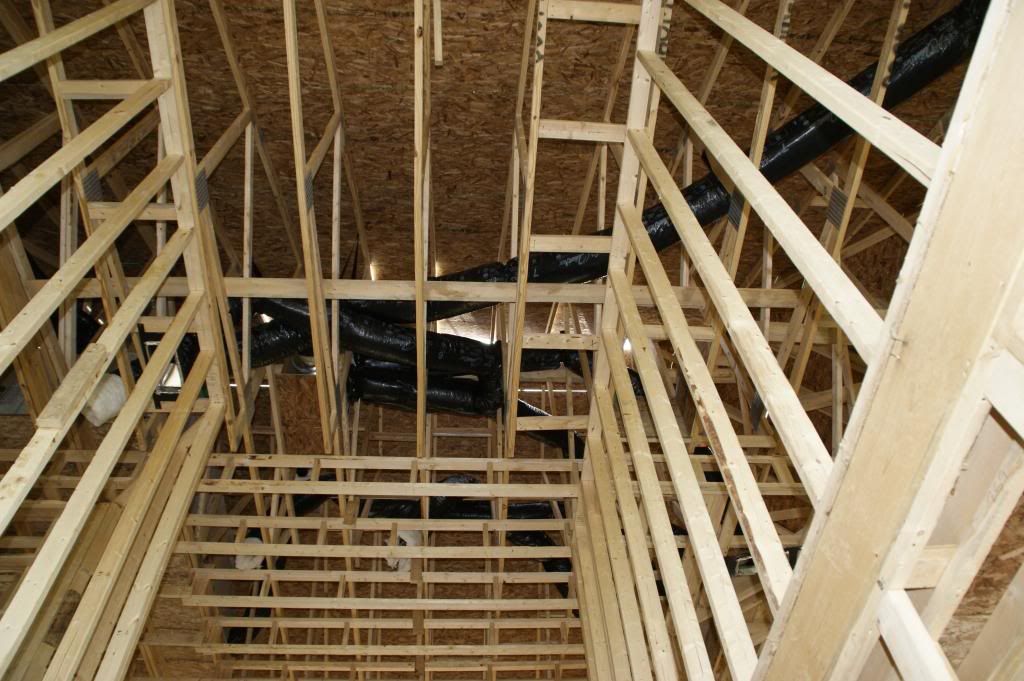 No this is not something out of a Spiderman show...it's our duct work.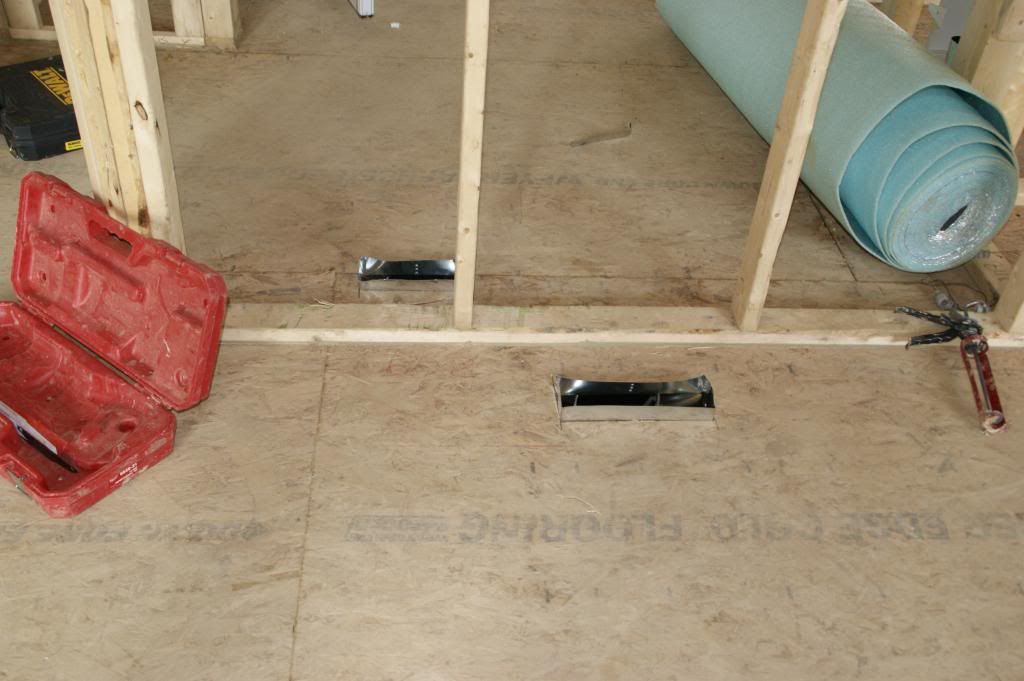 Random vents popping up everywhere.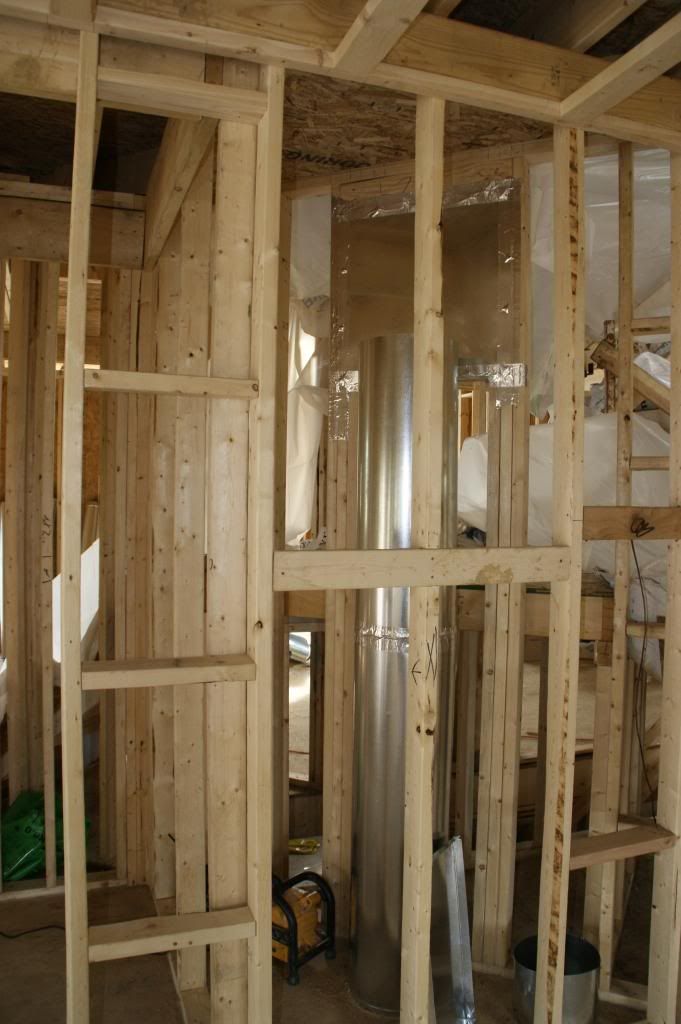 Air Return

Dryer Vent on the Correct Side
Our Current House is Plumbed Backward and
we have Front Load W/D. A Major Pain!
Garage Doors Installed
I just pulled the single car down to get a look at it because there were people still working. The iron handles and hinges haven't been installed yet. Some of this is installed on the 2 car portion.

Carriage Style Doors
Door handles
One step closer to being locked out of our house.

Handle on Garage Door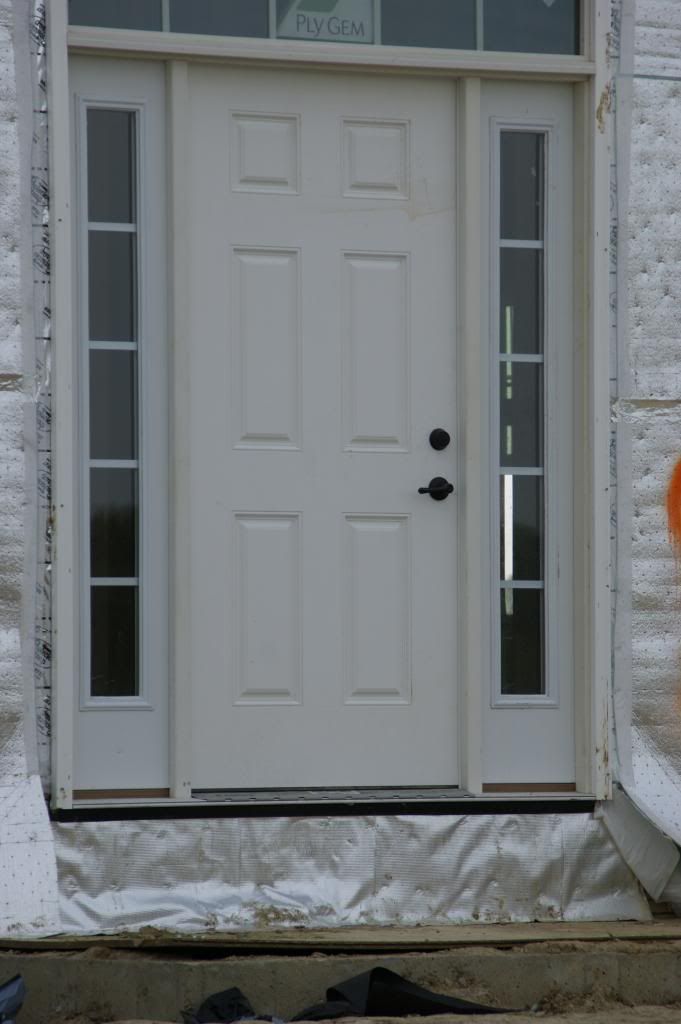 Handle on Front Door
This is not the one we picked out. This was overlooked
during the Pre-Con meeting. Hopefully this is just
a temporary knob until the other one comes in.
An attic access. Was wondering when we would see/get one of these.

Attic Access