First off...the plumbers didn't come back today. Starting to see a trend with subs doing 80-90% of the job and then disappearing. There's a good chance, they showed up, saw the framers weren't there or hadn't fixed the area they needed to do some of their work and left. Or maybe they didn't show at all... who knows?
Speaking of framers. They were on site but it looks like they hadn't been there all day. They stayed until 730pm and finished most of the main and upper level. Didn't even go into the basement. They will be out in the morning and should knock out the rest tomorrow.
Utilities Trench and Power Lines:
The trench to bring in our power lines and I think our gas has been dug. The utility company stopped by while I was there and put in the power line. It is isn't hooked up to the meter yet but the wires are there.
Framing Punch List Day 1:
Framers began working off the mountain of little things that were left over. Looks like it will take them 1 to 1 1/2 days. Mostly because there is only 1 1/2 guys working on the job.
Patched Big Hole in the Family Room Floor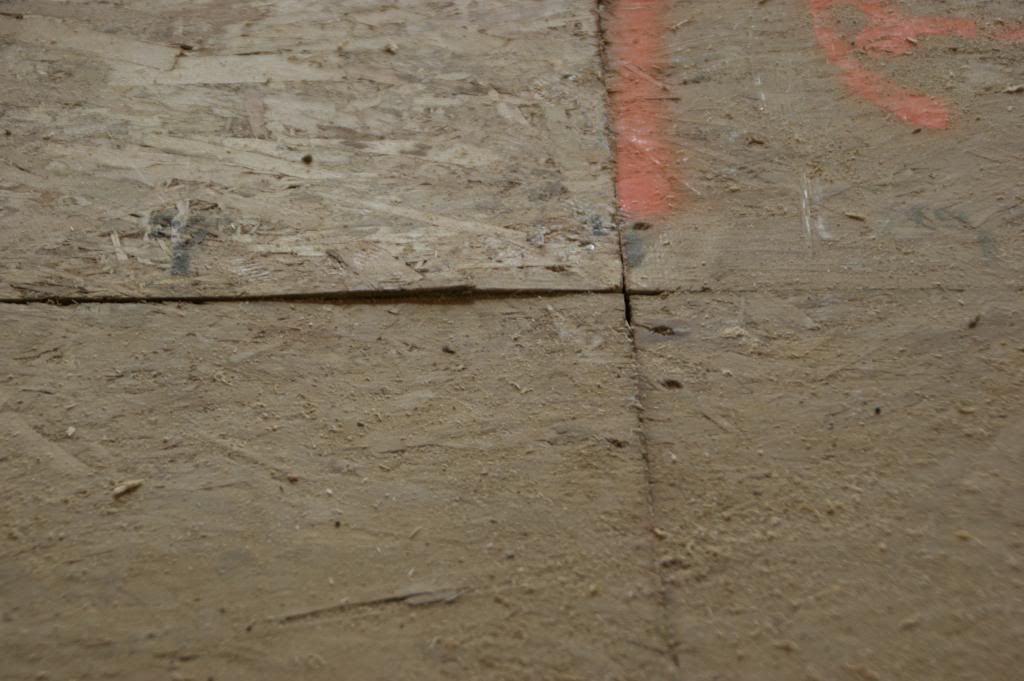 Weird Patch = Future Site of Squeaky Board...
Don't know how this is supposed to look
but I'm pretty sure that's not it (sofit at top).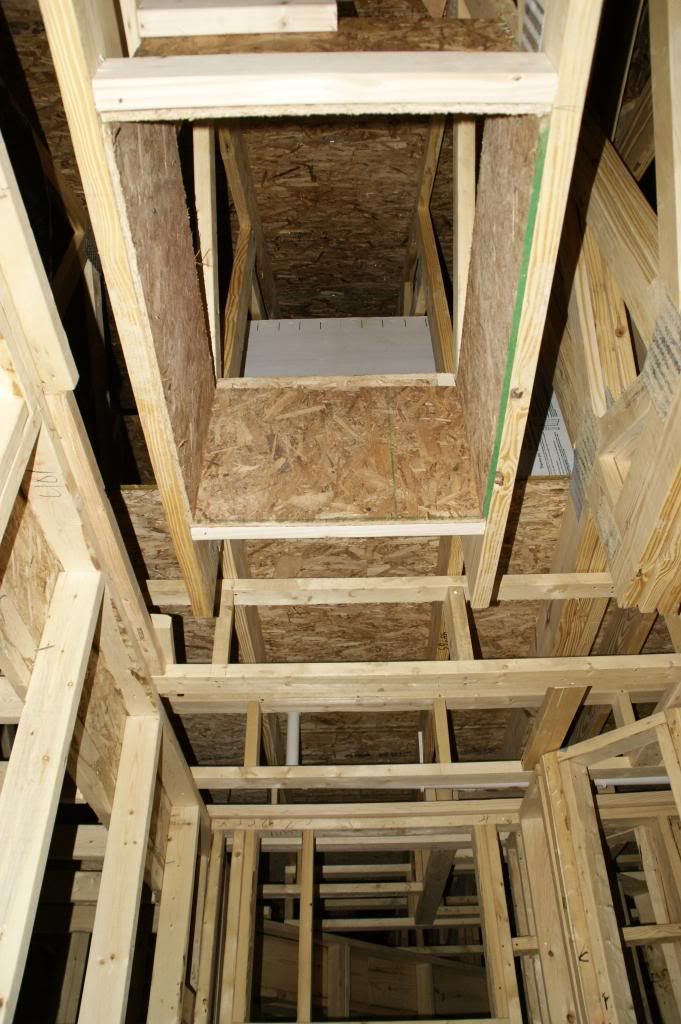 Attic Access to Upstairs Furnace (Tree House...whatever)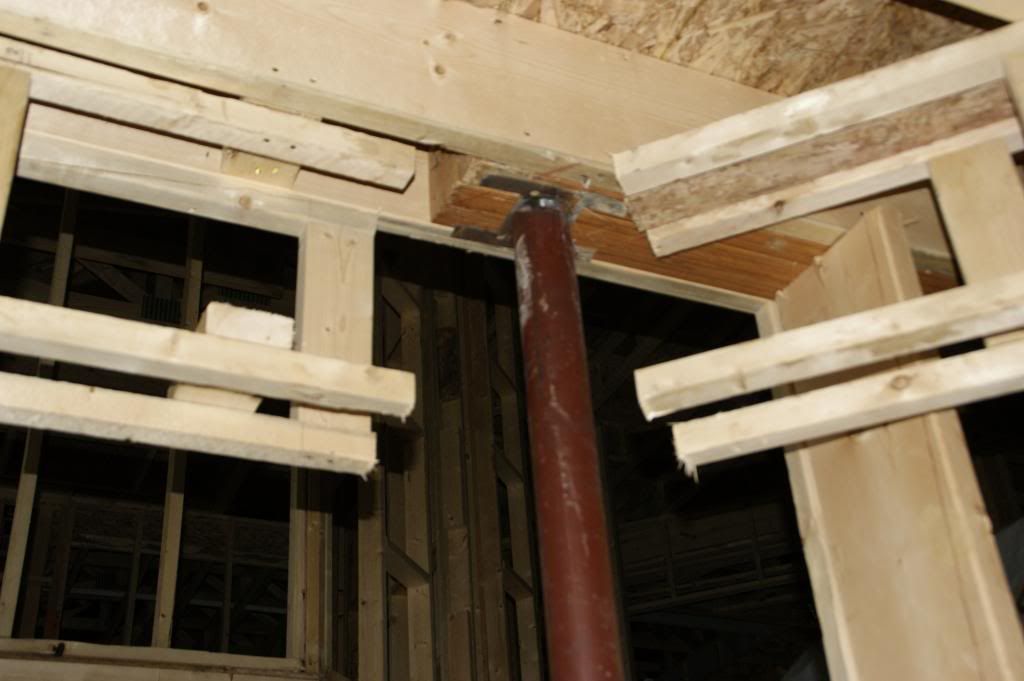 A close up of odd sofit termination
1 of 3 Additional Free Standing Columns in Basement
Not counting the ones that were already installed
2nd of 3 Free Standing Columns. Taking up
valuable space in my Media Room.
Didn't get a great picture of our tub before, there it is in all its glory. Didn't get the jets :( Dang those budgets and compromises.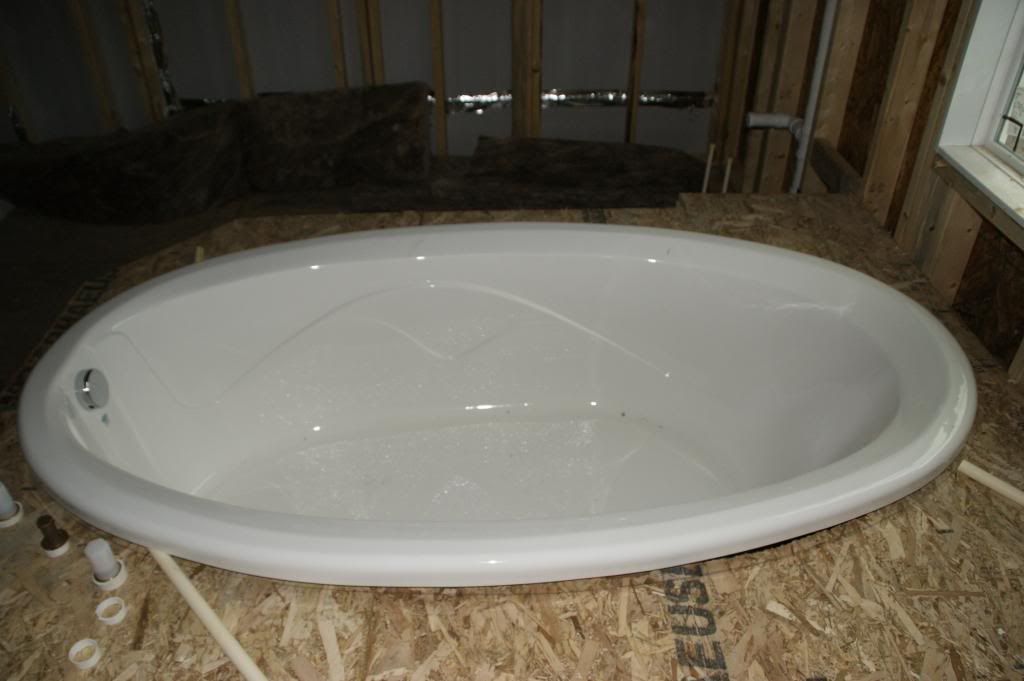 Kid Free Zone...
The Courtland behind us is coming right along. From a framing perspective, they have nearly caught us. From a, "what you can't see from the street" perspective, they are still a few weeks behind us.
Also, the Avalon that's going in down the street just got their framing package but hasn't had their slabs poured. I like seeing our neighborhood start to fill in.