It was pouring rain today. I was really worried about our house flooding again because the roofers weren't done yesterday. Luckily they had finished enough to keep most of the water out. There are spots throughout the house that were still getting wet but not like before.
Not sure which subs, but one of them had taken the plastic off our oak stairs to work and didn't put it back before leaving. Luckily one of the HVAC guys recovered it for us. I asked about it while I was touring and he took care of it right away. At the top of the stairs there was water really starting to flood the area and I am pretty sure without the plastic we would have gotten water on the oak.
Forgive the pictures. It was actually pouring down rain and I didn't want to get my camera wet so I used my phone for these.
Most of the roof was finished but not all.
A lot of HVAC work occurred to include one of our furnaces. The one in the "Tree House" may be in there but I'm not climbing up there to see. They are supposed to be done tomorrow.

Lots of ducts and returns all over the house.
Our fireplace came. That was installed along with the heat shield behind it.
Also, the wiring diagrams I made for them were posted. The PM liked mine more than having to annotate and post the larger prints. also, some of the subs have complained about the fact that the prints are of the Right Hand plan and our house is the Left Hand version. It's funny that this is the case because all I've heard is that the County Inspectors are sticklers and I couldn't make any changes because of the County, etc., etc., blah, blah. I'm wondering how the County inspector can inspect a home from plans that are backward. Just saying...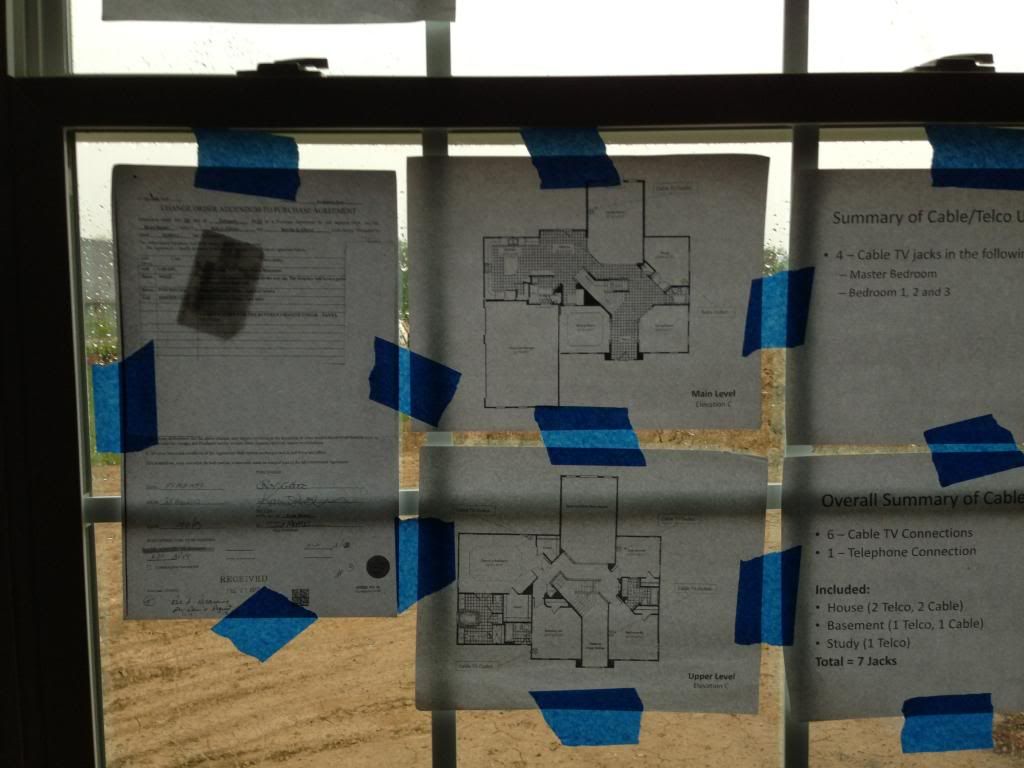 I'm Assuming that having Wiring Diagrams Up is a Good Thing...
...that might mean we will see electricians soon :-)