Today was the 3rd and Final day of HVAC. It all looks really good and I was pleasantly surprised to see vents in the unfinished portion of my basement. Not every room but two of the ones I was planning on finishing. There weren't any returns, so there would be some HVAC work to be done but at least it would be minimal (meaning not going to cost a fortune).
We ran into the PM when we were out there and had a chance to compare notes on a few of the items we had noticed. There were a few things I saw that he hadn't but there was even more he saw that I didn't. So I guess having extra eyes on the project pays off. Speaking of extra eyes. Our house has become a bit of a training ground for RH. They haven't built one of these in the area for over 7 years. Not many people have seen them built. Every PM, SR, SA and manager in the region has stopped by to see our house. I suggested we start selling tickets to help pay for my down payment. I apparently was the only one that liked this idea. One advantage of having so many people looking at the project is that there is more incentive to get it right. Not to imply that wasn't the objective anyway but I think I like having the extra visibility.
Here is what the PM said was on the horizon:
Roofers: ??? MIA
Framers Punch List: Tomorrow, May 18th (They still have quite a bit of work to do).
Plumbers: Between Tomorrow, May 18th and next Tuesday, May 21st (Based on what I saw from my rough plumbing, probably starting Monday, completing Wednesday or Thursday. The plumber that said it was a 1 day job, took 3).
Electricians: Next Wednesday, May 22nd
Guardian: Next Thursday, May 23rd
Brick should be on site next Thursday, May 23rd (Not sure when they will start work though)
Pre-Drywall the week after next. PM said the later part of the week Thur/Fri, May 30/31. I think he is building in padding just in case they have to get a re-inspect on the Framing and Rough HVAC.
Here are some pictures from today:
This is a better picture than yesterday of the house with the roof on.
Just in case anyone was curious...
This House is Sold! Sorry...
but you can have one too, just see our SR.
This turned out pretty straight. I think if they wouldn't have fixed the sheathing it would have definitely looked crooked.
Turned out good.
Back of House not Roofed and no Roofers in Site. It is Friday, they must be
out drinking with the Plumbers...JK. Actually, I'm sure there is a joke
there somewhere. "Did you hear about the one where the roofer walked
into the bar and said to the plumber...."
Entire back of house not roofed. What erks me is that it was beautiful during
the day today and now it is pouring rain. That was in the forecast, not a surprise!
So more water penetration into my house that is supposed to be drying in.
Garage Door Pics:
Yes, I know it looks crooked. I was standing on a pile of gravel.
Didn't get to take this shot the other day because they were working.
More HVAC Stuff: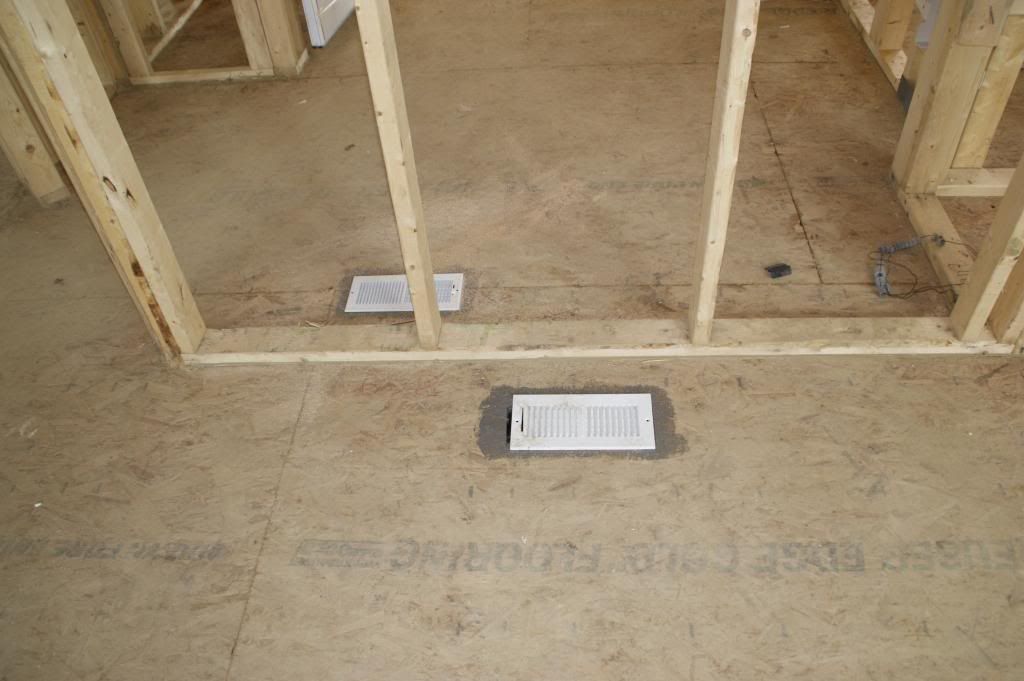 These will need to be replaced with something that won't look horrible
with our gorgeous floors.
Plumbing Stuff:
I didn't take a picture of it because it was still in the box but our Water Heater was in the garage. It is a Bradford White 50 Gal Gas unit with a Power Vent.
I don't know what it is about plumbers and throwing their elbows all over the place... Every blog I've looked at has this picture. It's almost a right of passage. So I couldn't pass it up.
Cabinet locations and sizes marked in Kitchen (Exciting!):
This was just a shot I couldn't resist taking. The plumbers drilled the hole and got the sump pump going again the other day. They just sort of set the pipe in place and left. The pipe literally shot off and across the yard. Subsequently, the water just poured back into the dirt and our foundation. This was the result of that action. I knew the ground was still settling here but WOW!
Apparently have a fault line running through
my yard...