We found that while visiting other Builder's Blogs one of the first things we wanted to know was what options did they chose, and why. We could usually figure it out pretty quickly by going to the first few posts on their site but we figured for ours, we would dedicate a page just for this information.
This was both a learning and educational experience for us. We have been together for nearly 22 years and realized how different our tastes really are. I remember saying at one point that I couldn't imagine how two people could be at completely different ends of the spectrum. In a way, I think this would make for a great couples therapy exercise. It's all about Communication, Compromise, and Understanding...finding out what is really important to one another. In the end, we made it through the process and even after 22 Years, learned some new things about each other and of course, ourselves.
_______________________________________________________________________
Floor Plans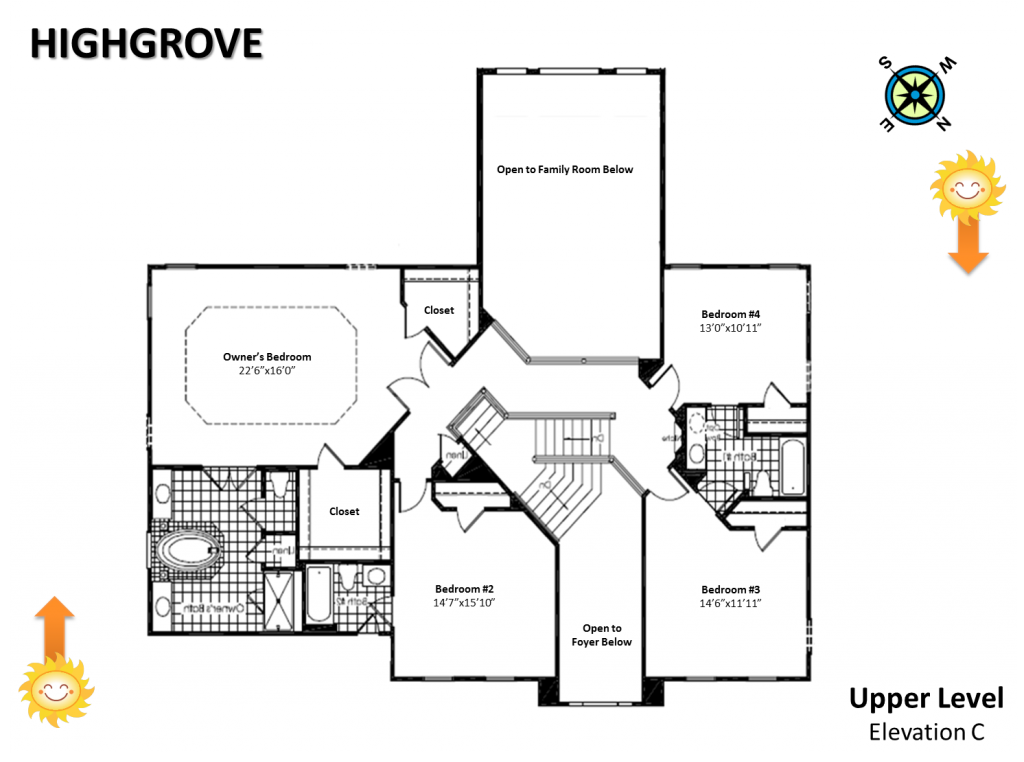 Upper Level
Main Level
As you can see there is a 3 Car Side Entry Garage (aka Airplane Hangar), 4' Extension on the Family room and Tray Ceiling in the Dining Room. Hardwood in the hatched area, except the Laundry room, due to moisture and the formal living and dining room. We added the Side Windows in the Living room to bring more light into the space.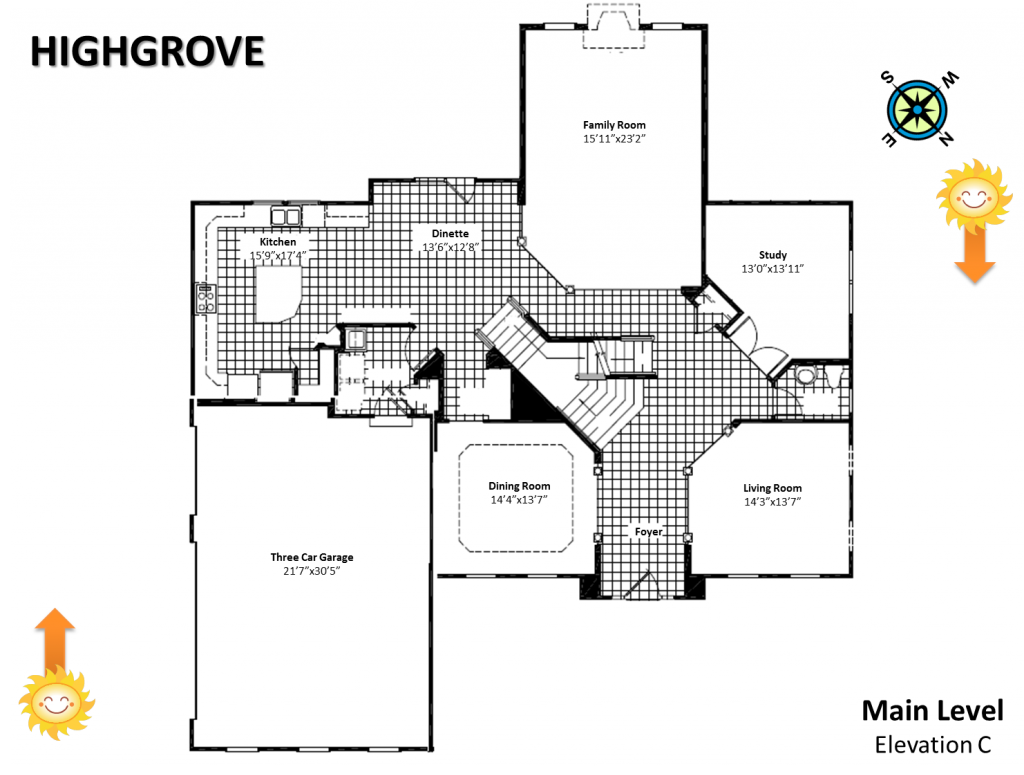 Main Level
Lower Level
We are not getting the fireplace in the basement, I just forgot to take it off the drawing. This does show the 4' extension. The welled exit (egress window) will be through the Exercise Room (not finished). I'm thinking about making that a area another bedroom and preserving the other spaces for family use (i.e. an Actual Media Room, Exercise Room, Game Room, etc.).

Lower Level
_______________________________________________________________________
Elevation:
Elevation "C" Full Brick Front and Entire First Floor, Sides, Back and Chimney (Included as Community Feature)

We really like the Hipped Roof and didn't see spending more to change it.

3 Car Side Entry Garage with Carriage Style Doors (2 Car Side Entry and Carriage Doors are a Community Feature)

The side entry was a nice community feature at no cost, so it made adding the 3 Car much cheaper. Making room for this extra cost, made for quite a bit of debate.

12" Eaves (Included as Community Feature)
Hardi Plan Siding 2nd Floor, Sides and Rear Only. All others brick (Included as Community Feature)
9' Ceilings in Basement, Main Level and Upper Level (Included in the Highgrove)
_______________________________________________________________________
Exterior Home (Inspirational Picture)
We really liked the brick on this home. It was being built at a near by Ryan Homes community. This is Sugar Creek, for those of you trying to match the samples in the models to actual homes. There seems to be a bit of variation in this brick. Some homes look much lighter than the more recently built ones. We really liked the color contrast in this home between the White Trim and darker brick. We also get this carriage style garage door as a standard community feature. We were going to do the stone on the front but we traded that for the dream kitchen.
_______________________________________________________________________
Exterior Colors and Finishes:
Brick - Sugar Creek
Hardy Plank Siding: Dark Khaki (2nd Story Side and 2nd Story Back Only)

Except the Family Room will have brick all the way up.

Trim/Garage Door - White
Door - Roycroft Copper Red
Shutters - Black
Garage Doors - White w/Iron handles and hinges (like photo above)
_______________________________________________________________________
Basement:
Finished Basement

Incentive. Free = No Brainer.

Full Bathroom (W/Shower)

We want to create an apartment for our kids if they go to college locally. We'll see?

Egress Window

To make it safe for living (and legal).

Wet Bar Rough In

For the future kitchenette.

Didn't Finish Media Room or Exercise Room. Will do that later. Again, trade offs.
_______________________________________________________________________
Living Room:
Side Windows

Wanted the Bay Window but saved the money for something else. Also, when you see a picture of this space, the windows are far apart enough to comfortably add a sofa in between them.
_______________________________________________________________________
Dining Room:
Tray Ceiling

This is one of the features I really like about this series of Ryan Homes Traditional designs.
We are having them put a Switched Receptacle in the Soffit area and then we are going to buy the LED Rope Lights and just plug them in. Doing it this way is 1/4 the price. We are also doing this in our Master Bedroom.
We found these pictures on High Hopes for our Highgrove but I think they actually came from another Blog. If I run across it again, I'll post the site.
Both Home Depot and Lowes sells these lights in their under cabinet and accent lighting section. You can purchase varying lengths, they string together and plug into a regular 110v outlet. They are between $15 to $50, depending on Brand and Length.
_______________________________________________________________________
NO MORNING ROOM :(
This was one of our big trade offs. This option was really expensive and we just couldn't justify it. You lose the ability to add the Sitting Room in the Master Suite as well. Just those two options alone are half of what we actually spent on upgrades. That was a tough sell. Other than the Sitting area, we can always add a screened porch, or sun room on the back of the house. We went into buying this home with the mentality that it would be the last home we will buy until the 900sqft bungalow on the beach somewhere warm and tropical.
Another note on the Morning Room. The Dinette is big enough for a full sized table, so the Morning Room is really not necessary. The other thing we noticed was it seems like you lost cabinets and the Windows above the sink without the Morning Room are 40" wide (x2). You get a panoramic view of your yard this way with lots of natural light coming in your kitchen.
_______________________________________________________________________
Family Room:
4' Extension

I wanted this option just as much for the extra finished basement space you get, as I did for the Family Room. We intend on putting the Basement Kitchenette below the Family Room, so this 4' Extension will allow us to have both an Eat in Bar and Dinette in that space.

Gas Fireplace on Rear Wall

We really liked the Stone Fireplace but in this house you would lose the big arched window. I really didn't like that idea.
This is very similar to what we selected. We should have a matching hearth (not the same color as above), not shown here and the wood trim will be the same. We went with a darker granite surround called Ubu Tuba.
Kitchen:
Rushmore Square Maple Glaze Butterscotch Cabinets by Timberlake

If you study Timberlake's line closely you can match the cabinets Ryan offers to their product line:

The Value Built Line (Veneer Doors)

Fairfield (Included)
Andover

Portfolio (Veneer Doors)
Portfolio Select (Solid Wood Doors)

Bronze Cabinet Pulls
Desert Brown Granite (A new addition to their line up but less expensive)
UPDATE: Our SR called and said they had new Granite Choices. We went in and changed our Granite to Santa Cecilia. Yeah!!! Picture Below.
Butler Pantry (Included Community Feature) w/Granite Counter Tops
UPDATE: Got a quote from Home Depot to do a similar Hutch as the optional one. Timberlake Cabinets are the same company as American Woodmark (an exclusive Home Depot Brand). You have a lot more flexibility in what this hutch looks like, the types of drawers cabinets, etc. The quote did come in higher than RH's price but we also didn't price out the same hutch.
Stainless Steel Appliances.

GE Profile:

Gas Cook Top
Convection Double Oven
Microwave / Hood
Dishwasher
NO Refrigerator. They didn't have a very good selection on refrigerators so we are going to go buy a new French Door style after we close. I saw a Samsung that was really cool...we'll see!
GE Profile™ 30" Built-In Gas Cooktop
PGP953SETSS
Deep-recessed cooktop
Contains spills for quick and easy cleaning
Sealed cooktop burners
Keep spillover contained on cooktop, making cleaning quick and easy
20,000 BTU tri-ring burner
Offers the flexibility of three different burners
Precise Simmer burner
Delivers a low setting of 140 degrees
White LED backlit knobs
Indicate when burners are on so you don't forget
Control lock capability
Protects against unintended activation
GE Profile™ 30" Built-In Double Convection/Thermal Wall Oven
PT956SRSS
Glass touch controls
Smooth design is easy to operate and easy to clean
Black gloss oven interior
Adds a stylish touch to the kitchen
PreciseAir™ convection system (upper oven only)
Accurate heat circulation ensures evenly baked foods
Self-clean heavy-duty roller rack
Provides easy access to oven interior
Flat convection cover
Convection fan system is only 1" deep
Convection Bake (upper oven only)
Optimal setting for baked goods and casseroles
GE Profile Advantium® 120 Above-the-Cooktop Oven
PSA1201RSS
Speedcook technology
Cooks up to 4 times faster than a conventional oven
4 ovens in 1 to meet your cooking needs
Speedcook, True European Convection, Warming and Sensor Microwave
Optimizes cook time for consistent results
Saves valuable time by eliminating preheating
Over 175 preprogrammed recipes
Allows up to 30 customized recipes to be saved
GE Profile™ Dishwasher with SmartDispense™ Technology
PDWT380VSS
5-stage filtration with Piranha™ hard food disposer
5 self-cleaning filters ensure clean dishes
Dedicated silverware jets
Highly pressurized spray jets target the silverware area for improved cleaning
DeepClean™ cycle with Steam Prewash
Removes tough, baked-on soils like egg, rice and oatmeal
Fan assist dry with heated option and ActiveVent
A heating element heats the air inside while a hidden fan circulates the warm air to help dry dishes
51 dBA sound level
Nearly silent two-pump system cleans dirty dishes without disruption
ENERGY STAR® qualified and CEE Tier II
Meets or exceeds federal guidelines for energy efficiency for year-round energy and money savings
Kitchen (Inspiration Picture)
This is one of our inspirational pictures for the kitchen. We have about a dozen just like this one. We wanted an Espresso island but there was going to be an extra charge to go down in cabinet quality. The Rushmore are the most expensive and the Espresso are one of the least expensive but instead of getting a credit, we were going to be charged more (in all fairness, we may not have actually been charged but that is the disclaimer. Either way, it was going to delay our Production Release.).
Kitchen with Cream Cabinets and Santa Cecilia Granite
Here are a few pictures of an
Avalon
with Cream Cabinets and Santa Cecilia Granite. It may be hard to tell in these pictures but these are not the Butterscotch Glaze they are a Non-Standard Hazelnut Glaze. They have a little more depth and texture. Our floors will not be this red, they will be more of a dark brown.
_______________________________________________________________________
Bathrooms:
All Bathroom Vanities: Fairfield Maple Spice (1 Upgrade. A good value for the price)
All Bathroom Tops: White Cultured Marble (Fancy name for Plastic)
Again this was a trade off. None of the upstairs bathrooms will be seen by anyone but us. There is no hall bathroom. They are all in bedrooms. We decided to put our limited resources in the rooms that we would spend most of our time in and ones that people will see. Then over the years, we can upgrade to what we really want. Talk to me in a few years to see if this logic holds up.
_______________________________________________________________________
Electrical:
Lighting Package "C"

This is the Savannah Collection by Progress Lighting in Burnished Chestnut
This is what Ryan is using for their various lighting packages:

Package A: Americana
Package B: Renovations
Package C: Savannah
Package D: Guildhall

We really liked the Chandeliers in this package but the Renovations was a close second. The Americana didn't seem to fit the style we were looking for. You can get it in other colors other than Gold or Chrome but it's a bit dated.

Recessed Lights in Owner's Suite

Up by the Bed for Reading and in what we are going to try to make a sitting area.

Ceiling Mounted Lights in Formal Living Room, Bedroom 2, 3 and 4.

It is cheaper to do this then to do ceiling fan rough-ins and you get a light fixture. You only get one switch versus two but that is all you need if you want to replace it with a ceiling fan in the future.

Ceiling Fans in Family Room, Study and Owner's Suite
With the ceilings in the Family Room being so high, I really did not want to rent scaffolding to hang these.
13 Extra 110v Outlets for the Garage and a couple places around the house. Some of these are switched outlets for the Rope Lighting and Under Cabinet Lighting. There is only 1 Outlet in the Garage. Huh?
2 Dedicated Circuits. 1 for the basement kitchenette, another for the Garage for Power Tools.
_______________________________________________________________________
Foyer
These Chandeliers were one of the reasons we picked this lighting package.
Dining Room
A very elegant piece that will provide a classic and timeless feel to the room.
Dinette
Just the right size for the space.
Living Room, Bedrooms
I think this will provide a warm glow to these rooms and tie in well with the other options we selected.
Vanity Lights
Based on the size of the vanity, the number of lights above will vary but this is the light fixture.

Bathroom Vanity Lights
_______________________________________________________________________
Plumbing:
Upgrade from Chrome to Bronze

We have seen this in a few of their models and we really liked it. It's unconventional versus the brushed nickel but it doesn't show water spots. We live somewhere with very hard water and the faucet fixtures and shower enclosures show the hard water stains. The shower enclosure is supposed to be bronze as well.

Water Softener Rough-in

This was a really good tip we discovered by talking to one of the neighbors when driving through the neighborhood. He mentioned that if you get the finished basement it is nearly impossible to run the lines you need for the water softener after the fact. Ouch! Bite the bullet, if you think you will need this and do it now. As mentioned we have hard water and will add a softener at some point. Other expenses first: window coverings, paint, deck, fence, oh moving costs, and the fact that many rooms in our new house are going to be empty for a long time.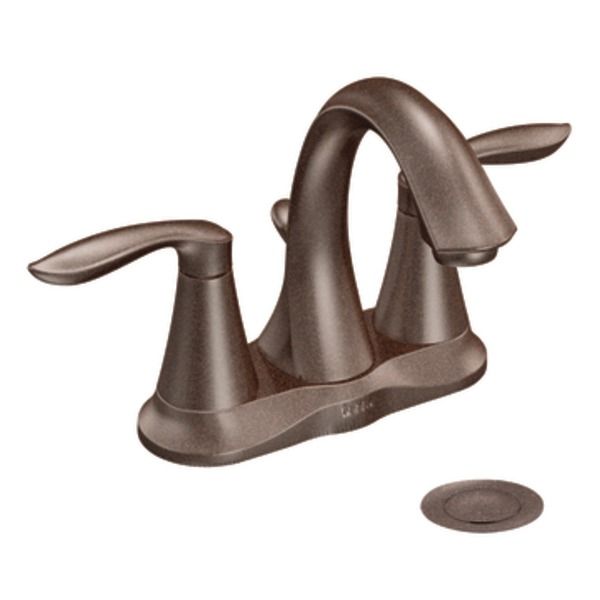 Sink Fixtures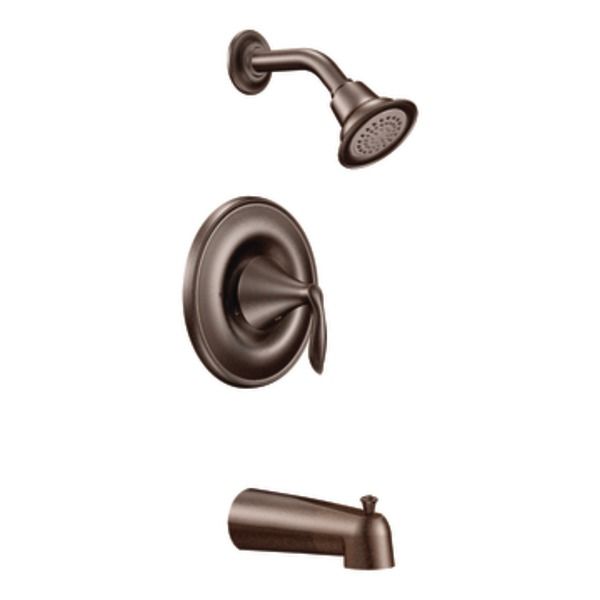 Shower and Tub Fixtures
Towel Rods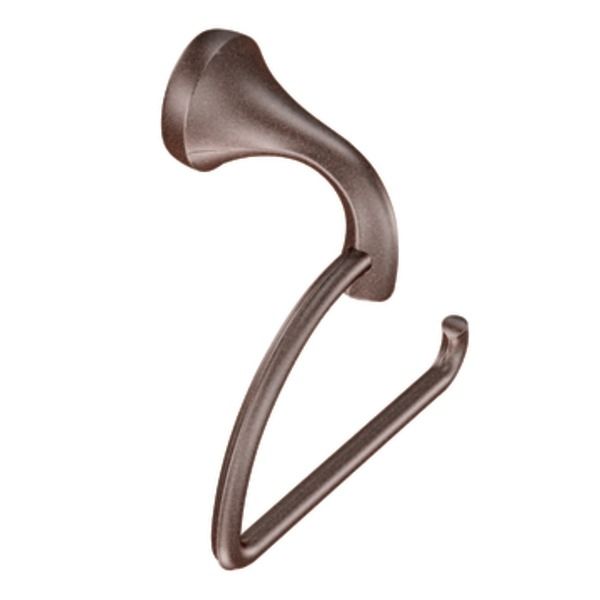 Paper Holders
Other
These are other components in the Moen Eva Collection but not included in the package. We may add some of these elements later on down the road.

_______________________________________________________________________
General Specifications:
Direct Set Stairs
Metal Balusters

This is really nice, especially with the waterfall staircase.

R-15 Insulation in Exterior Garage Walls
I hope this helps keep the garage from dropping below freezing in the winter. The garage doors are supposedly insulated as well.
Direct Set Stairs with Iron Balusters
This is a good pictures showing the carpet runner and how the metal balusters connect directly to the treads. This picture was taken in a Courtland Gate. The banister is Dark Cherry. I think it is a bit too dark and washed out the balusters but is a good representation of what Direct Set Stairs with Metal Balusters looks like.
This picture shows a likeness of how the railings will look from downstairs. Again, not a Highgrove but we will have cat walks with metal balusters, crown molding on the 2nd floor and a paint color very similar to this one. It's not Pavilion Beige but almost (Not sure why RH does this but this is a model home and there is lots of paint on the walls. None of it is available from them. All of the colors are Sherwin Williams colors and are very close to what they offer. So close in fact that they could have just used the colors they offer....WHY?)
_______________________________________________________________________
Flooring:
This was the second largest trade off and one of the hardest decisions to make. The SR don't get involved in this because there is too many options and they change frequently. You meet with a rep at Rite Rug. You can take a look at their site but you won't be able to make heads or tales of what is a Level A, B, C, etc. Even if you visit the store, you may not be able to figure this out. One of the locations near us had a Corner just for Ryan homes. Basically, everything in that section was part of the builder's program. We went in advance to get an idea of what we liked and disliked. This made our appointment a lot easier. We found out that we had very expensive taste and quickly changed directions.
Carpet Basement (Spec Level)
Carpet Main and Upper Floor: Level A (Included as Community Feature)

We went with the included carpet level in the basement, main level and upper level. Our community includes one upgrade on the 1st and 2nd floor. We know we will end up replacing the carpet after 3 years or so.
Hard Flooring:
Base Resilient in Basement Bath, Bath #1, Bath #2 and Laundry
Hardwood Flooring in Hatched Areas on Floor plan

We went back and forth on this. We really liked a Level C 3/4" White Oak, Hand Scrapped Flooring but there was a Level B that was cheaper and it had a nicer finish. In the end, we went with the B. This savings will ultimately pay for the blinds in the house and maybe a few sets of curtains.
UPDATE: Ryan in our region, decided to stop putting Engineered Flooring in homes with basements. We couldn't go with the Level B flooring and ended up getting the Level C we liked for the same price.
Carpet (Shaw)
Hardwood (Bruce Hardwood, 5" Plank, 3/4 White Oak, Antique Frost)
Resilient (In Secondary Bathrooms and Laundry Room)
The is was a large area of compromise. We pretty much went with the bare minimums upstairs. Vinyl floors, and their Value Built Cabinets. These are a small upgrade from their spec but not much.
Tile:
The only place that gets tile is the Master Suite. Of course we would have wanted to upgrade but again, trying to keep the cost down and upgrade later. We weren't in love with any of the options they had and knew we could do a better job. This will be one of our improvement projects down the road. The Master Bath in this house is pretty nice already, a great canvas to begin with...we will make it beautiful.
_______________________________________________________________________
Color Choices:
Interior Walls - Sherwin Williams Pavilion Beige
Their 3 Tone Paint package doesn't give you a lot of flexibility but I really did not want to have to paint the walls in the Two Story Family Room or Foyer. Not to mention all the other projects I will have upon moving in. Moving in, hanging blinds, building a deck, fence, etc... Trade-offs and compromise. Besides, this house is too nice for one of my sloppy paint jobs. We will paint a few accent walls, but that is it.
_______________________________________________________________________
Laundry Room:
UPDATE: We originally were not going to put cabinets in our Laundry Room but two things changed our minds. 1.) We received a large credit from RH we were not expecting 2.) We were not sure if we would get the Laundry Sink without this option and wanted a sink to wash muddy shoes, etc. 3.) I thought our Front Load Washer and Dryer would not fit under the Upper Cabinets. I was probably right but my wife wants a counter top installed over them to fold laundry. So we will be taking them off the stands anyways.