Had today off and went by the house early this morning to meet with Guardian and the Electricians.
Yeah Guardian!!! His vehicle looks like a mini-van from this angle.
The PM was there coming up with a solution for the sofit in the basement and looking to see how to finish the ceiling above our basement stairs.
Good News:
The PM is having the HVAC guys come back in and tighten up the two vents that are causing the framing issue. Basically the way they are now, would cause either an strange series of rectangles on our basement ceiling around the vent lines or we would have to drop the entire ceiling half the basement. Didn't like either option. So the HVAC crew has already dropped off material and should be coming in to fix that soon. They have to re-route these so the framers can finish. They are working behind us on a Courtland, so hopefully they can send someone over to do the work.
They're going to replace these vents with
metal tubing and hold them closer to the steel beam.
Met with the Guardian installer and walked the house with him and marked all the drops, even the box in the basement. By the time I left, he was almost done with the job.
This turned out to be worth while. The technician had the original set of wiring diagrams I had drawn several months ago. One issue I have with this process is that they rush you to get these done and in reality there is no rush. We waited, and waited and waited some more. All that time could have been spent by us, properly planning our furniture and room layouts. The other issues I had was I ended up having to make certain assumptions both on the fact that I had never seen this house and that we didn't have the answers back on a Non-Standard Request and a standard feature in the house. The request was denied and the standard feature I wasn't sure about was included. This caused me to have to move 2 drops.
Now that I have been working on plans for the basement, I would have loved to make additional changes but I had Guardian locate the cable box in a place I can easily run my own lines or have the cable company do it (without having to drill holes in walls and my wood floors).
Pretty nifty wiring set-up
Cable wire going upstairs and downstairs
You may be able to see the little cable box on the wall over there
Cable box and cable roughed-in
Cable secured in ceiling
I also mentioned the holes in the roof. The PM had called the roofers yesterday and they are supposed to come out to fix that today. They are also working behind us on a Courtland, so hopefully they will stop by and knock it out.
These were the holes I was talking about from a
previous post.
I had mentioned all the Gas Lines in my future media room hanging down and below the steel beam. The PM called them while I was there and asked them to come tighten that up and get it closer to the beam.
Gas lines in center of media room
Over 2' of this wall will have to have a sofit to
cover all this plumbing. Not real happy about that.
Something I didn't mention was that we didn't get the correct door handle on the front door. I had figured it was a temporary knob... I asked the PM and he confirmed it is a temporary knob.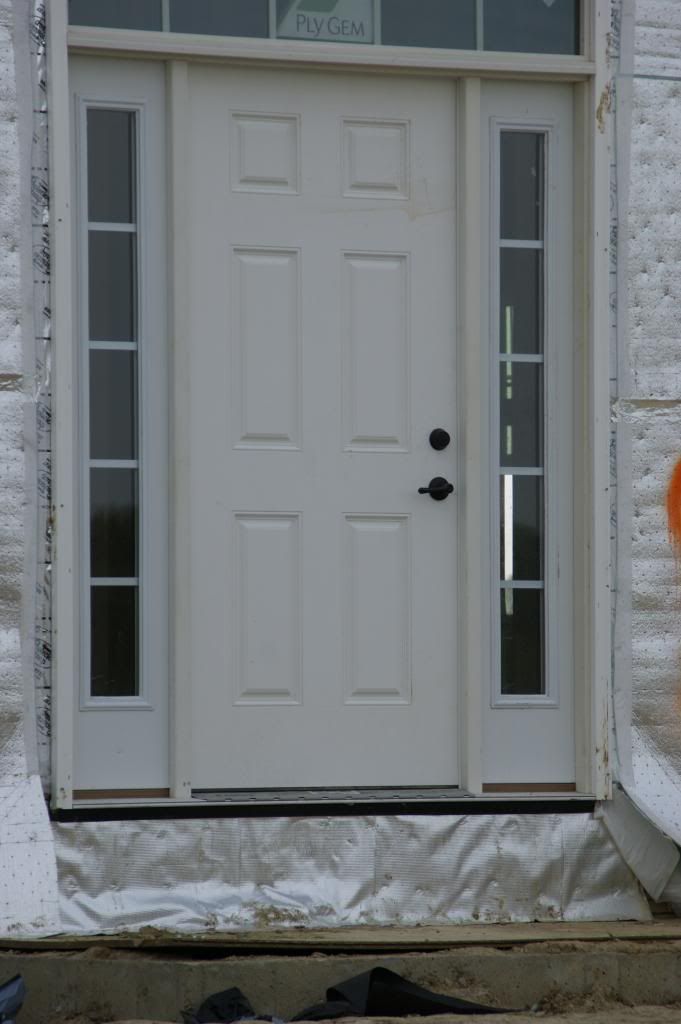 Temp Door Handle.
We opted for the upgraded handle set pictured below.
The Door Handle we are supposed to get.
We got a shipment of mason's sand...now all we need is masons.
That dump truck on the left was getting ready to drop off the sand
The Bad News:
The Electricians didn't show again. The PM called them in front of me and gave the foreman my name and number to notify me when they will be starting work. My PM is going out of town with his family this weekend asked me to call him if the Electrician doesn't call me. I really don't want to bother my PM while he is taking a mini-vacation.
- Due to all the specific wiring we did in this house, I wanted to make sure it is right the first time. We added a lot of under cabinet switched outlets and even some above the cabinets for rope lighting. We added various canned lights throughout the house as well. Now that the house is built and I can see the space, I have a better idea of where I would like this to go (within code of course). I would like to walk the house with them before they begin. Also, I want to ensure we get electrical outlets near my cable outlets. There is nothing worse than seeing a wire peaking out from behind a piece of furniture. It just looks so tacky.
- The Electrician foreman ensured my PM they will be done with our house this weekend, ready for inspection on Tuesday. So I guess I can't be upset about them not showing up, but they are wasting my time too. Not that I needed another excuse to go back out to your house. I've come up with plenty of those already. ;-)
Also, the framers showed up and apparently last night they were stopped and had their car towed (with all their tools). So they will be delayed finishing their work. They would have been waiting on the HVAC guys anyway, so it shouldn't be that big of a deal but a delay none the less.