Very Little Work Today due to RAIN!!! GRRRRR.... The house is flooded and there is not a section of sub-floor that is not soaked with a puddle of water. I'm worried about the house drying out before we get to sheet rock. We've had mold issues in the past from faulty construction and I don't want a repeat of this.
I'm hoping they come in over the weekend and finish installing all the plywood (OSB) on the roof. At least this will slow down the water instruction into the house until it gets roofed.
PM said we should have our direct set stairs on Monday. He was waiting until last minute to ensure the house was under roof before bringing them in. He was worried about the oak.
I didn't ask him about when the steel guys were going to come out to finish adding the free standing columns. For now there are random 2x10's holding up the 2nd Floor in certain areas.
I'll probably get a pulse next week when the framers are done to see what's on the horizon (i.e. roofers, electricians, plumbers, HVAC, etc.).
They started installing the first floor windows and stacked most of the others inside the house to protect them (Except they left the Big Foyer Window laying flat on the ground outside. The most expensive and certainly most important window in our house, sitting in the mud outside. Not happy about that. If it wasn't so heavy, my daughter and I would have moved it ourselves.).
Pictures below.
Those front windows run nearly ceiling to floor...they are beautiful.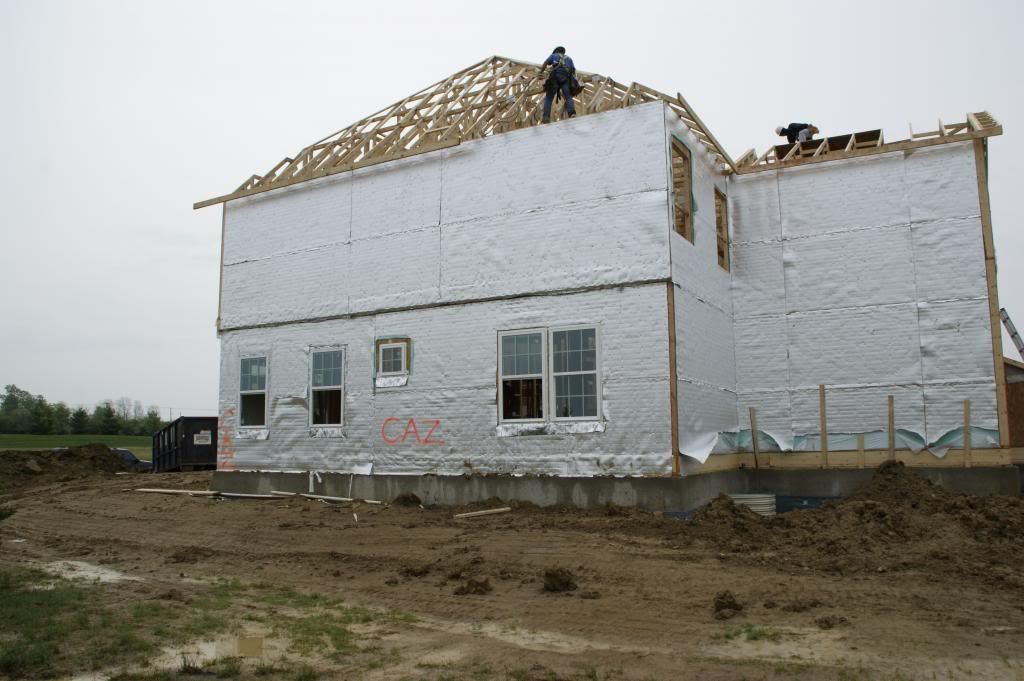 They also started framing the eves so they can sheathe the rest of the roof.
This section was sheathed before they left for the day...
Fireplace was framed and a shed roof was built over the dinette bump out. I didn't get pictures because it was so muddy in the back yard. Also, they finished putting in the windows in the Family room pictured below and the kitchen. The only first floor window without a window is 1 of 3 in the Garage. We're supposed to have our stairs on Monday. Once we get those, they may slep our windows upstairs and install them.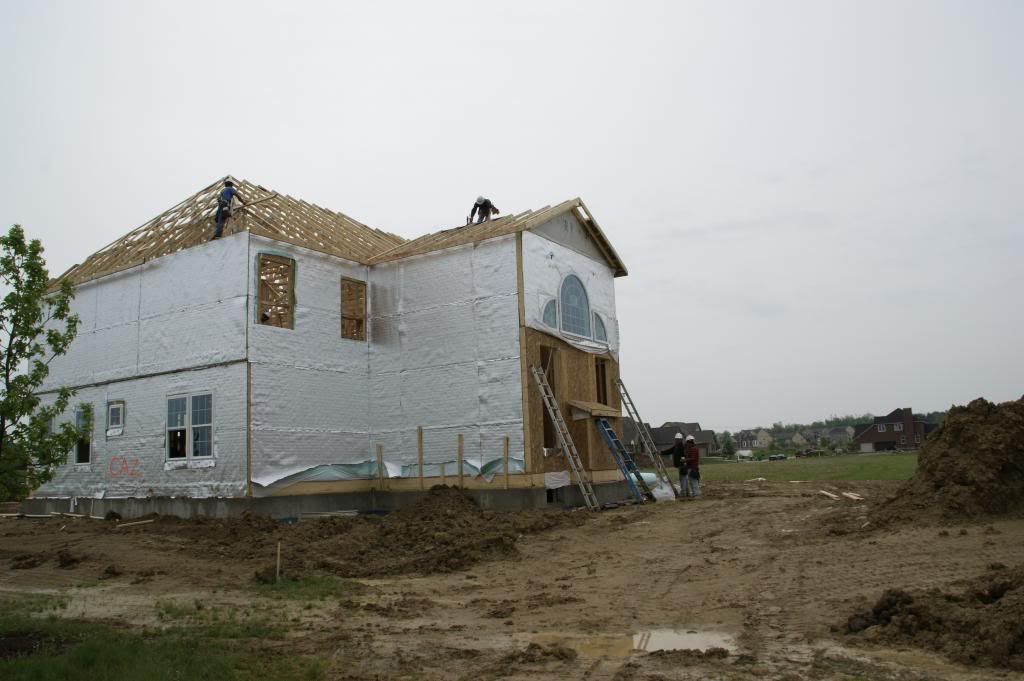 The Fireplace is supposed to have a gabled roof...PM was on it...will be fixed.