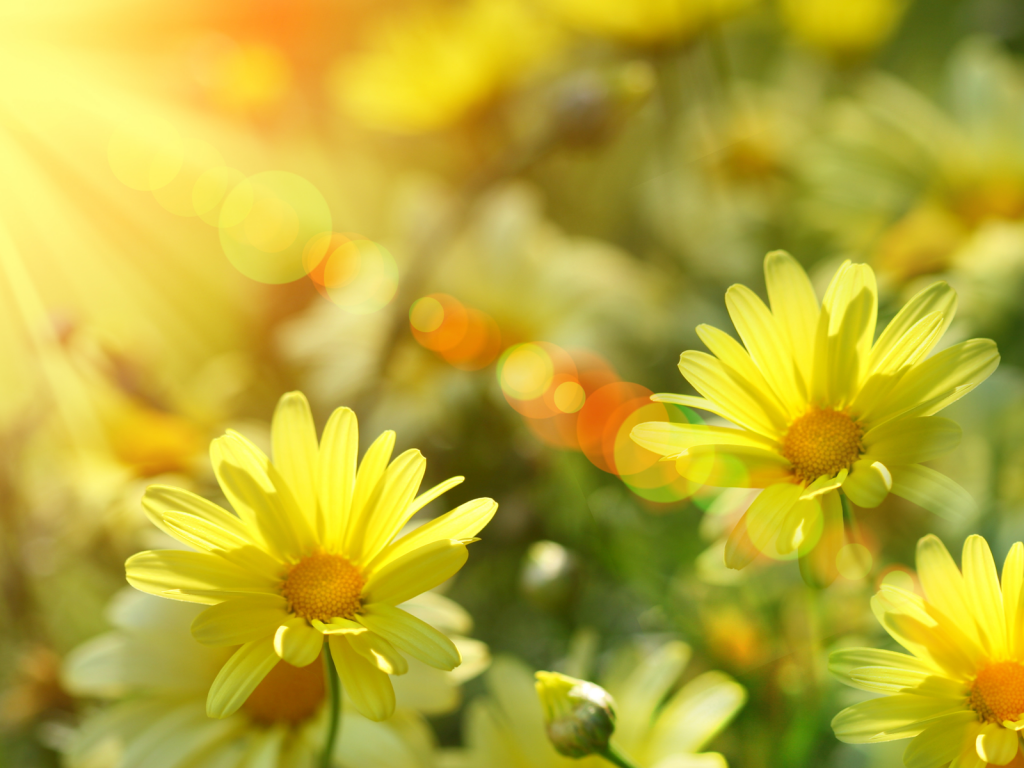 Spring Sunshine
Finally a day or so of sunshine (Until Wednesday). They were able to muck out the water/mud and finish digging the basement down to grade. It turned out really nice.
By noon, the excavator was complete and the concrete guys were hard at work setting up forms and the drainage system.
Looking from Front Right to Back of House - Family Room
Looking from Front Right to Kitchen and Dinette
Standing on Driveway and Looking into Garage - Trenches for Garage Walls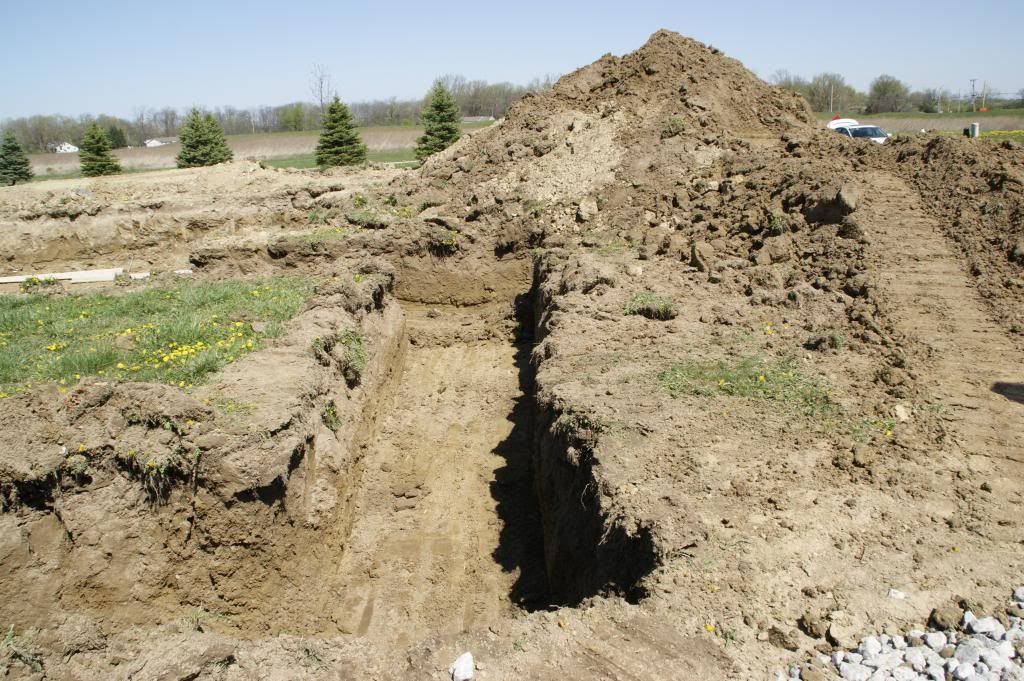 Another Shot of Garage Wall Trenches
I stopped back by after work and they were just finishing up. The footings inspection is scheduled for tomorrow and then they can pour the concrete.
Forms for Footings - Note Sump Pump Location in Lower Right Corner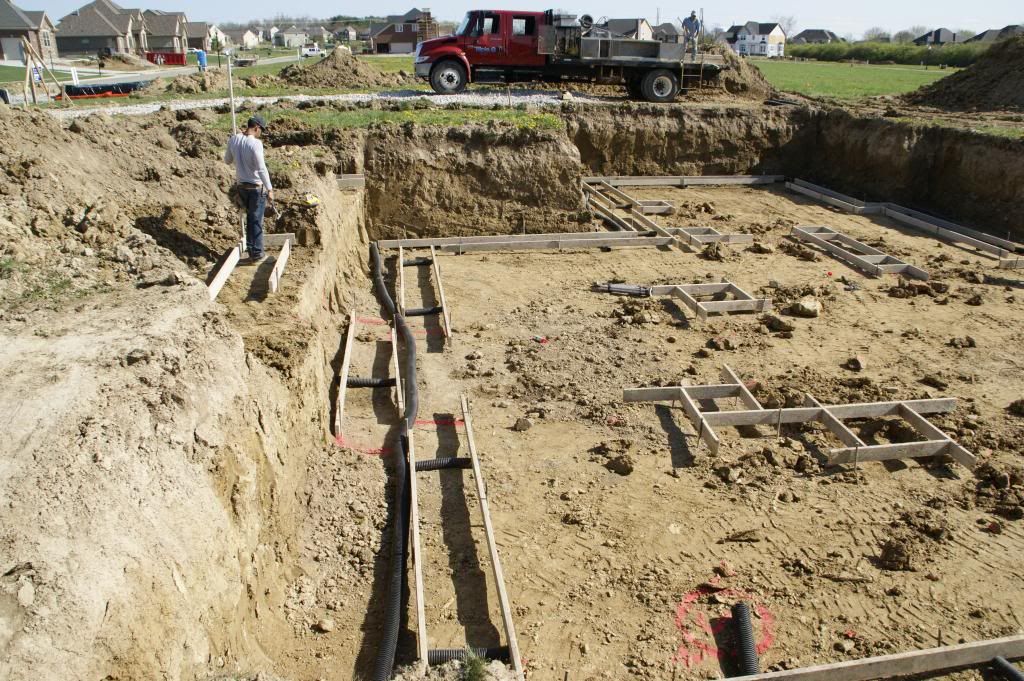 Setting Footing to Support Stoop (Front Steps)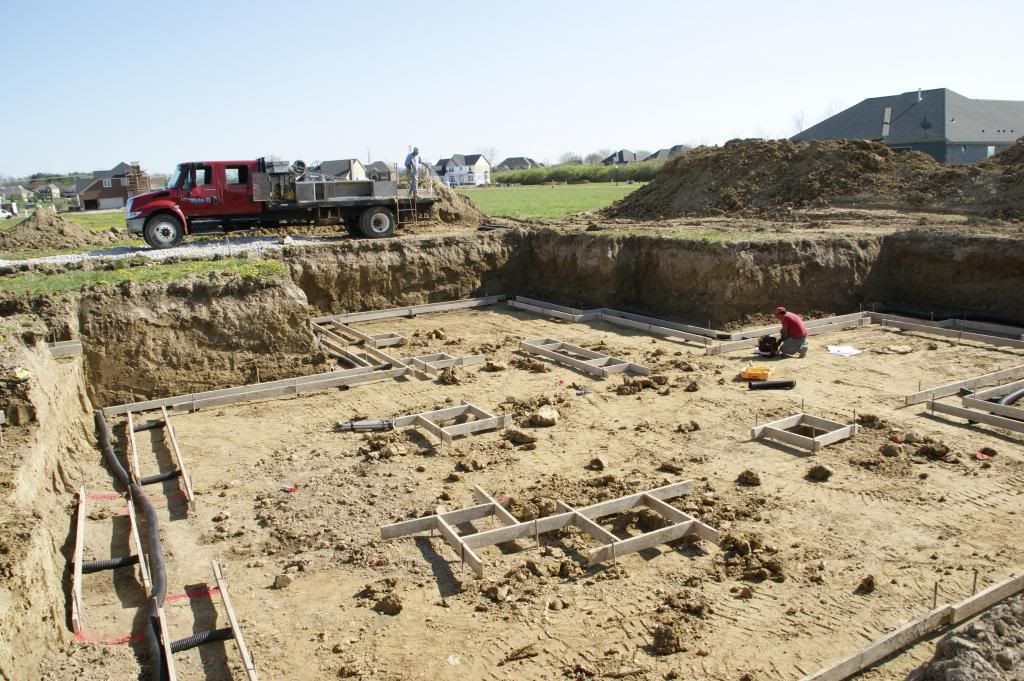 Looking at Left Side of House into Dining Room, Kitchen and Garage
Footing for Fireplace
The entire 1st Floor has to be bricked, and normally they would run the floor joists out 2' past the edge of the house and put the fire box on top of them. This doesn't provide enough support for the brick so they will be extending our foundation wall out a bit for support. This gives us a 2' x 5' niche in our basement. We are building a kitchenette here so this will become a pantry of some sort. Either using cabinets or framing it in. A great use of space. Same goes for our Dinette. They normally just extend the joists out 2' and extend the dinette 2' x 15'. Again, we get an additional 2' x 15' in the basement. It will be split between the main space and the media room. This will make for a nice place for some shelving.
Looking forward to seeing the basement walls go in. It's really tough to see what the true dimensions of this space is going to be. The hole isn't dug to the exact dimensions of the walls (because then need room for the waterproofing system), and while the forms follow the outline of the house, they aren't exact either. Hopefully are there for
Also they loaded the tractor up from my site and drove it right over to a Courtland being built right across from me. They also requested the permits for an Avalon that will be a few doors down from me and across the street. The lot has been staked and the Temp Power Pole is already in and inspected.