Not much happening today. All the forms were taken out of our basement and moved over to our neighbors. They have already begun setting up the forms on the neighbors Courtland. Their foundation isn't complete because they are waiting on an engineer but they shouldn't be too far behind us. I'm actually thinking they will pass us and close before we do.
The foundation crew finished cleaning up the walls and removed all their tools and equipment from the site. They had to break off all these little metal tabs that held the forms together and clean off the top of the foundation walls for the sill plates.
The water levels have gone down but there is still quite a bit of water around the footings. We have a mote for our castle.
Now we are ready for the basement/external plumbing rough-ins, water proofing and slab preparation.
A few of the pictures below are of angles I couldn't get because there were trucks and equipment in the way.
Complete Foundation...No Forms or Racks and a bit more cured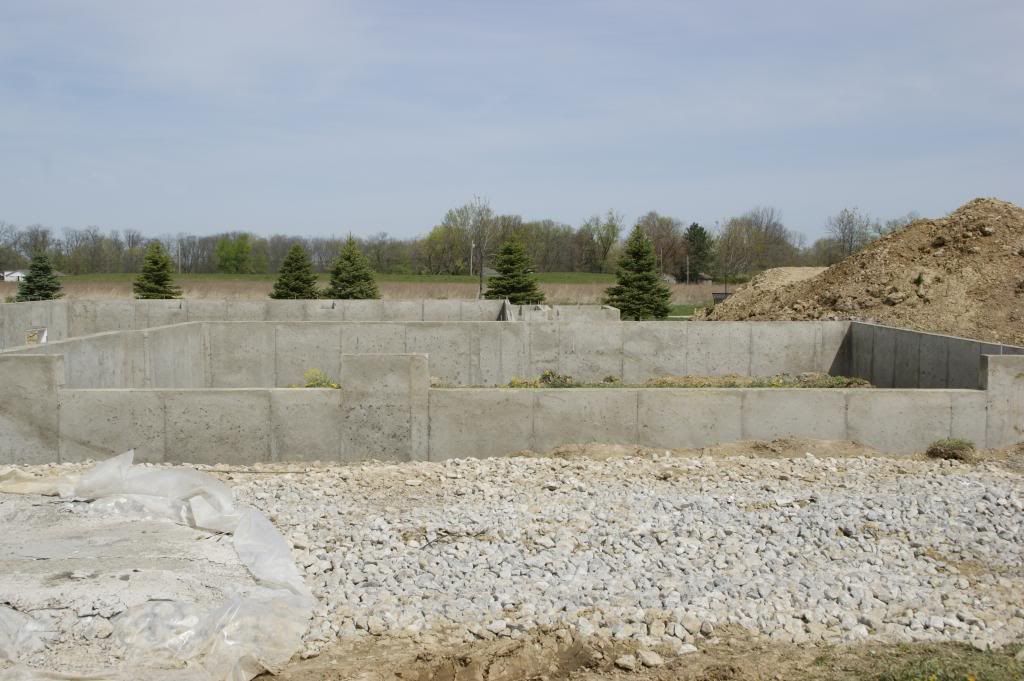 Garage from Driveway...Looks Smaller than I imagined.
Looks like just enough for a car, not storage in the back.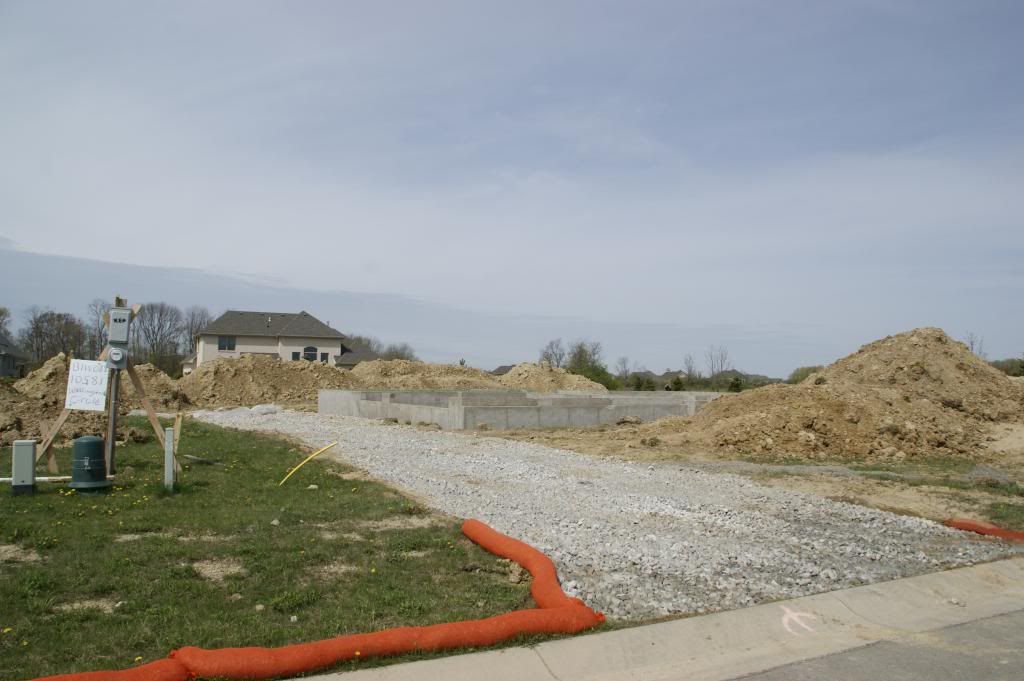 Frontage to Garage
The garage sticks out 16' further than the front of the house. I still can't get the angle from the porch to the street because of the huge mounds of dirt. Just like I can't see how big our back yard is going to be.
The picture above sort of tells the story for how much frontage we have. Our property line splits the utilities (shown on the left side of the picture), so the driveway and parking pad at the top of the driveway are right up against the property line and you can sort of see what our frontage may look like (looking at the street and the front of the garage). The front porch lands about half way through the 2 car garage (shown 2 pictures up).
I think the gravel goes up further than our driveway will. I have a feeling the driveway will end at the last garage entrance (the 1 car part). I would really like to extend the pad back further. Maybe about 10' or so.
It would also be nice to do a walkway from the front door to the front side walk for guests. I would like to provide an alternate means of getting to the front door other than up the driveway and down the little path they pour. It's also an opportunity to do something fun and decorative. Like retaining walls with planters, bench seats, etc.
I expect nothing will be going on Sunday, so we will see what Monday brings. I haven't seen any applications for permits yet, so Tuesday may not be the target date for Water Proofing and Plumbing Inspections.