When we were picking our lot, the SR disclosed that they were planning on building a park at the end of the development (Originally they were going to build a 2nd Phase). It wasn't official yet because the transaction hadn't been complete but it was a consideration for selecting our lot. Of the many reasons we chose this community, this park and specifically this lot were among them.
RH's assumption was that the lots closest to the park would be prime spots and therefore would warrant a premium estimated to be between $25k to $35k. Their plan was to add the premium once the announcement was made. We signed our purchase agreement literally a few days prior to the announcement and didn't have to pay the premium. Score and thanks to our SR for taking care us.
The city has recently released the plan and it looks like it's going to be a really nice park and my 4 year old boy is going to be in heaven running around like a wild banshee.
These running/walking trails are part of a much larger community wide network with benches, shaded areas and exercise stations. It will really be nice when complete. Overall, the park layout exceeded my expectations and I am eager to see it come to life (along with my house).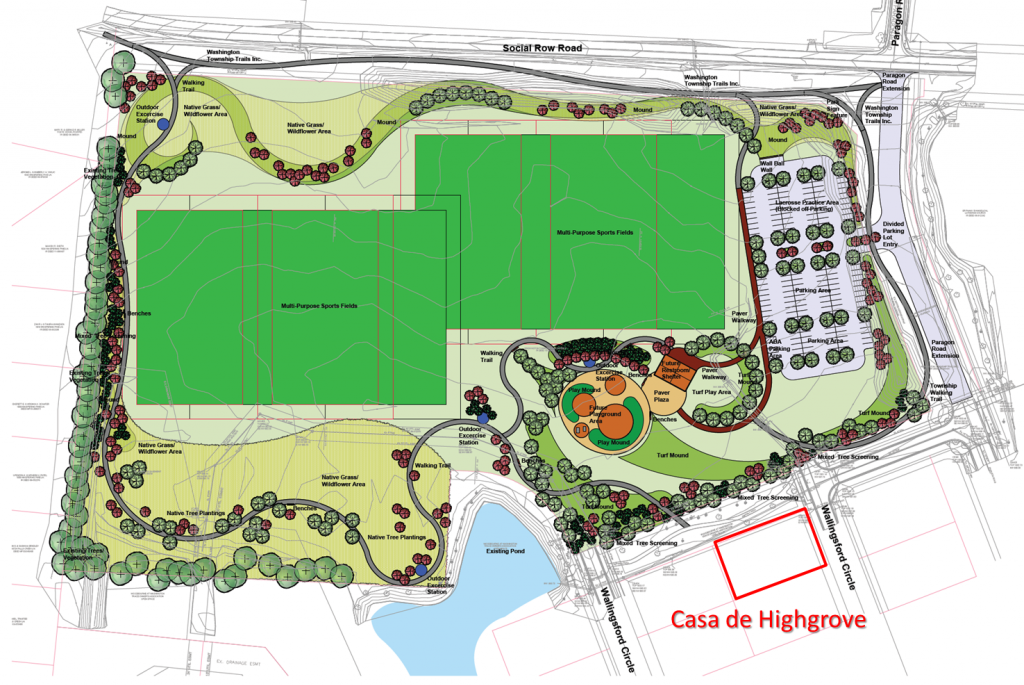 New Park Plan
I'm a little concerned about living so close to the parking lot and the new road coming in from the main road. We liked being at the end of a street where we didn't have any traffic but we may get more traffic in front of our house. The other thing I'm really hoping they don't do is bring any Soccer leagues to these open grassy areas. There is a soccer complex not far away and I hope they stay there. I would really be upset if we had crazy soccer people screaming and yelling every night and at O'Dark Thirty on the weekends.