We were originally going to do some of the lighting and electrical after we got the bar functional/usable. However, once we started looking at running wires for the lights we wanted, we realized we would be tearing out sheetrock and making a mess that would be harder to clean up and repair after the fact. So we went ahead and picked out lighting fixtures and planned where they were all going to go.
Also, we made a simple Project Management plan accomplishing some amount of work each day. There is a total of about 184 hours of estimated work (before the final punch list) to do and we are projecting it to take 10 weeks to do it. So about 18 hours of work per week. Of course, it's all an estimate but we are crossing our fingers it will be done before Memorial day... and we would especially like it to be done before next football season so we can host some games. We eventually have to get out in the backyard and build a deck or patio. Hopefully soon!
Attempt at some sort of Project Management Schedule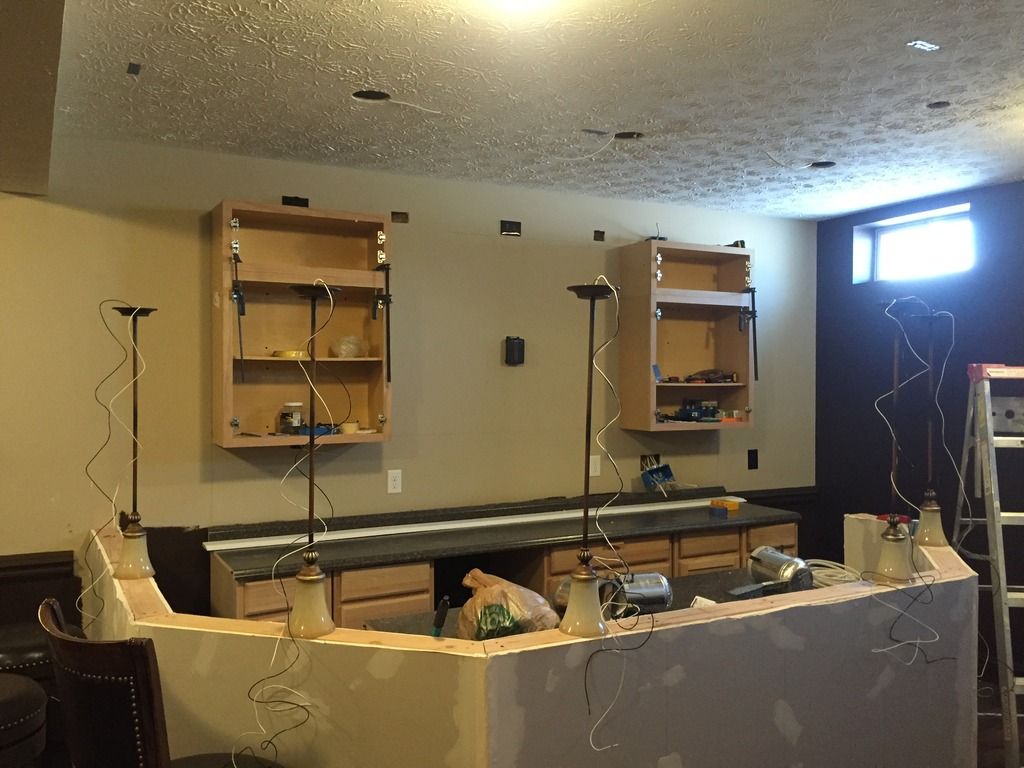 Cut out can light holes and started locating pendant light locations
Had to cut out this large section of sheetrock to get wires from switch legs
to all the new lights. So couldn't mount cabinets until this was done and repaired.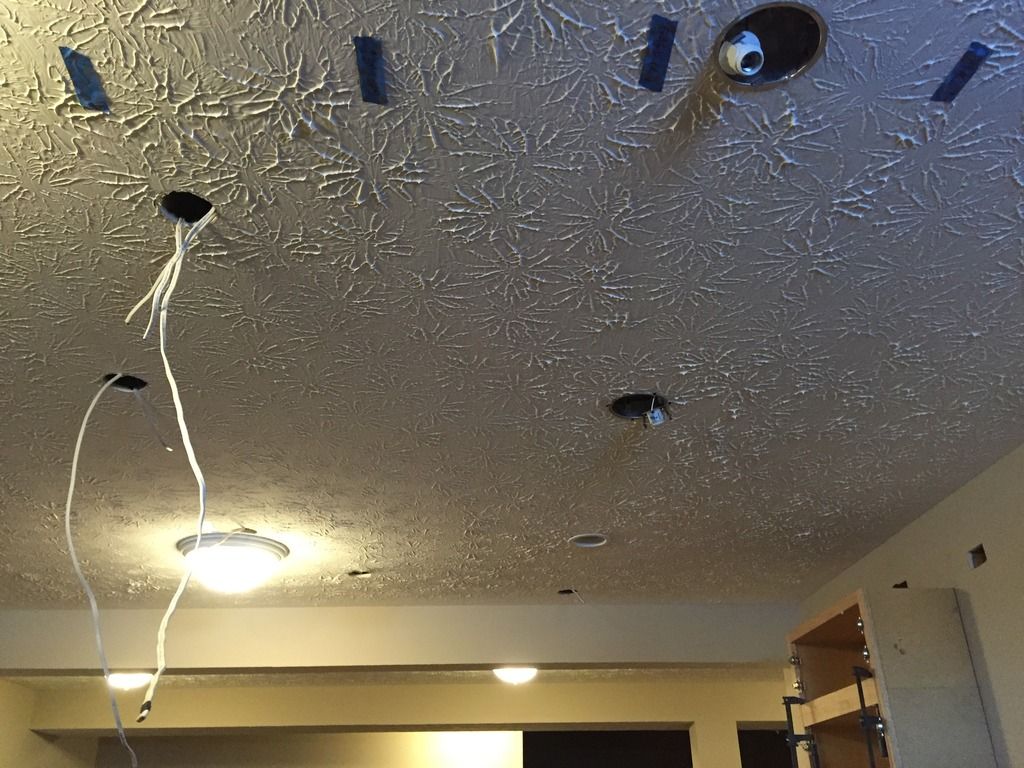 The Blue Tape marks floor joist locations but also where gas lines, water pipes
and heating ducts are.
First couple pendants up. That dome light is coming out
all together. You might notice a couple of bikes in this
picture. Well, it's winter time and we are training for
a Triathlon. So we put our bikes on trainers here
and watch TV while we ride. Our exercise room
is full of construction material and wine racks :(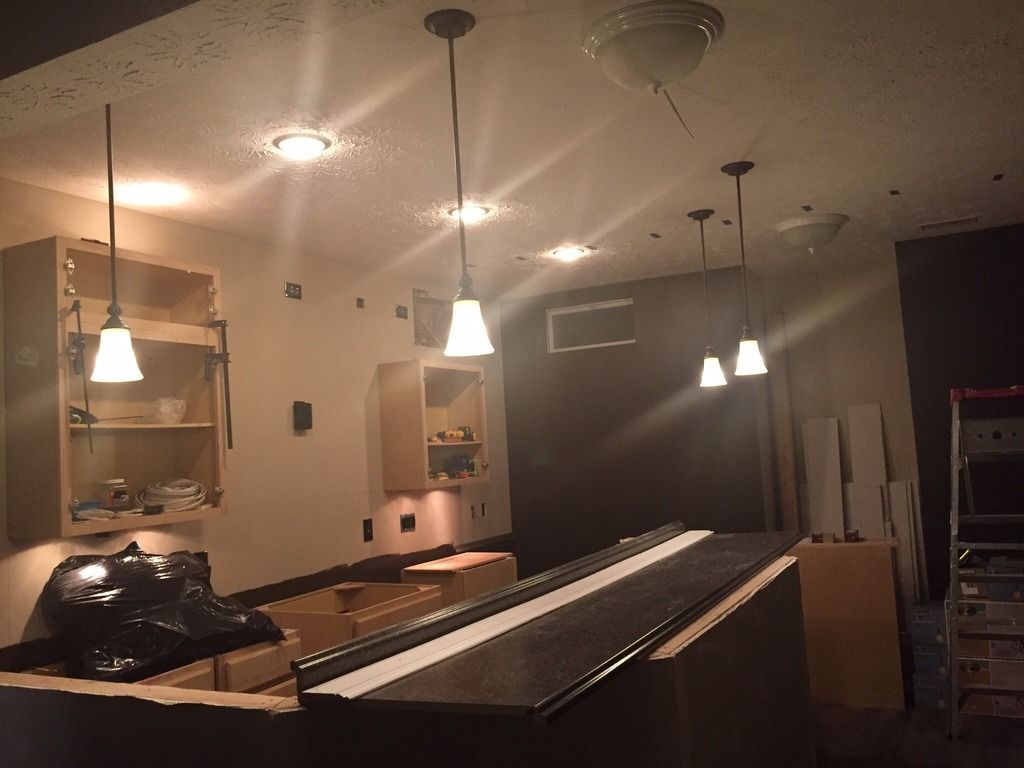 4 of 5 Pendants in. Can lights working and you can even see the Under/Over
cabinet lights working. That dome light is covering the 5th pendant light location.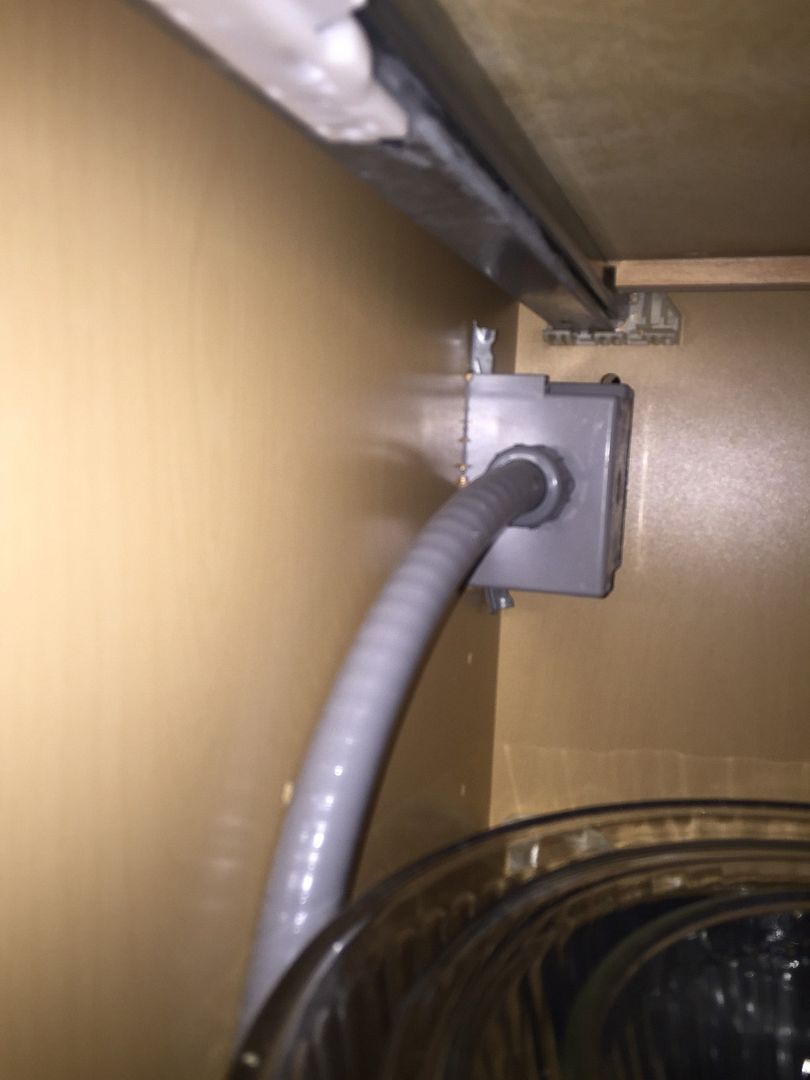 This is a pic of the electrical outlets in my kitchen island.
We will be installing something like this on either side
of the cabinets on the stub bar wall side because there
is only 1-2" of clearance between the backsplash and
bar sub-top.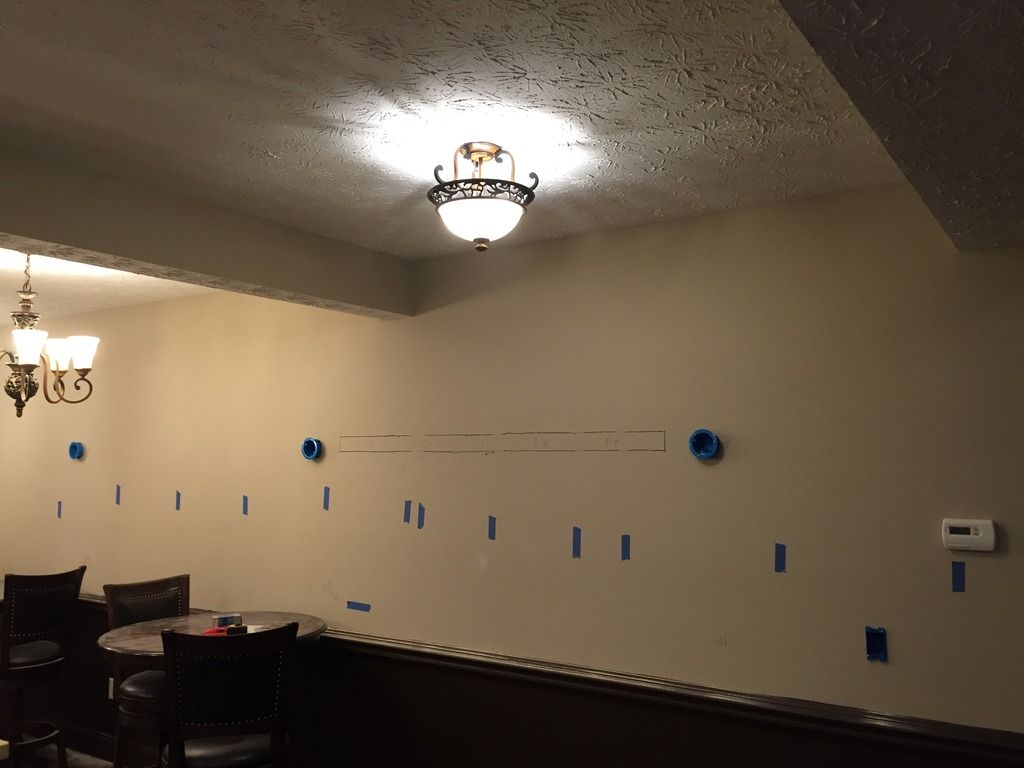 In this pic you can see the Chandelier and New Semi-flush lights we installed.
On the wall is the locations for wall sconces. We have already cut the holes
for the boxes and starting opening the wall up to run the wires.
Again, used blue tape to locate studs and other wires.
Another shot and a better view of the new fixtures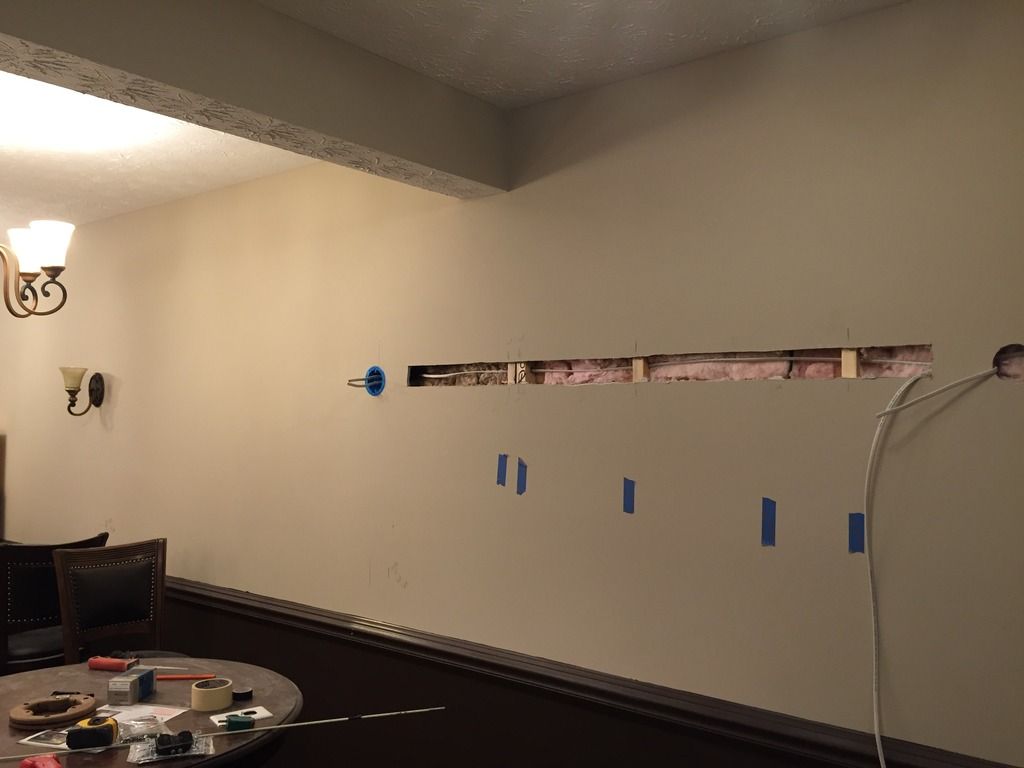 You can see the first sconce mounted on the left side of the pic. Also, the
hole cut in the sheetrock to drill and fish
Box for fixture placed 72" on center. We also put one
just above each Pub Table and one in what will be a
seating area in front of the TV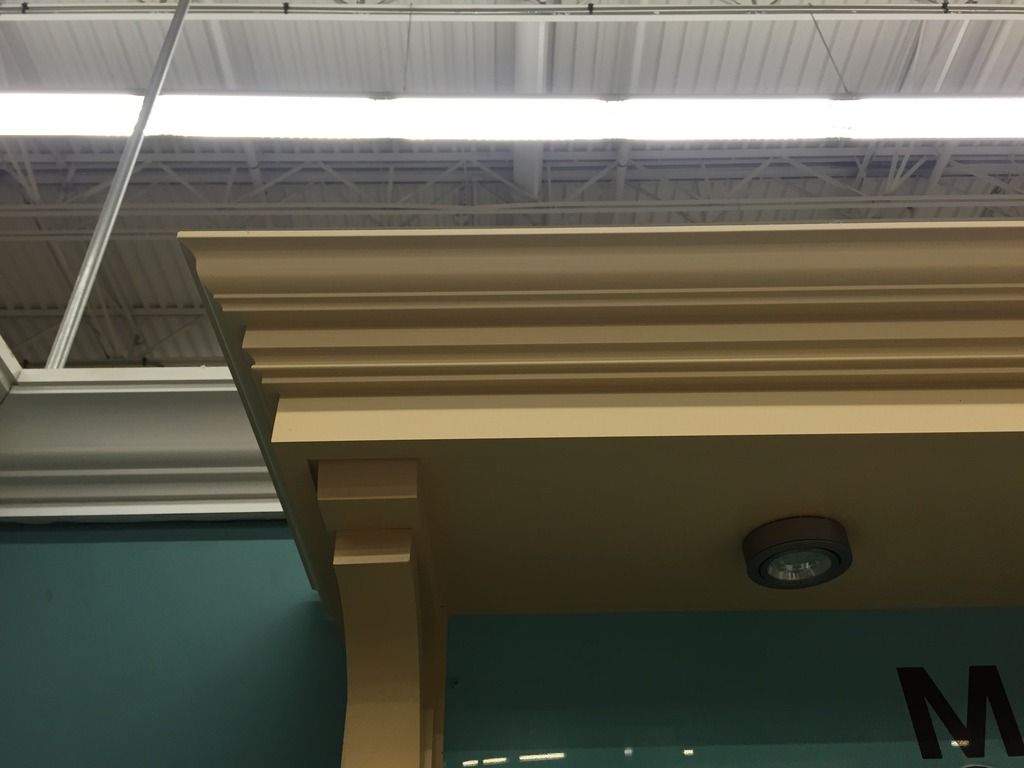 We're going to build a bridge over the bar back cabinets between the 2 uppers.
This is sort of what we are thinking about doing across the bridge and cabinets.