So this is what we have really been waiting for. We ordered all the bar top stuff from Hardwoods Incorporated a while back and just couldn't wait to see it all come together. Honestly, the look of the bar exceeded our expectations!!! We are really happy with the overall shape of the bar and with the glass and bar rail, it just looks amazing. Looking back, if we were to do this again, we would build the bar top independent of the bar wall itself and attach it after the fact. All the imperfections from the back wall and uneven floor transferred to the bar stub wall when we built it and so all the imperfections in the bar stub wall transferred to the bar top. The most noticeable issues are at the 45's on the seems. A few are an 1/8" higher and there are some gaps in the bar top and bar rail which will have to be filled (So no sliding beer mugs down the bar because they will hit the gaps and tip over). Despite these imperfections we are still happy with the results.
When we ordered all the milled stuff from Hardwoods, the shipping cost for the bar top kits cost more than the wood itself (I think it was going to cost like over $250 to ship). We looked around locally for material and just couldn't find anything that was going to work at the price we wanted to pay. You could find oak planks but would have to glue them together and rip them down to the right dimensions. For the cost of the wood, the risk and skill level was more than we wanted to spend. So we came up with two possible plans. One was to go with Select Pine project panels and glue them together and cut them to size (the risk was worth the cost) or to just get a few sheets of high end birch plywood and rip them down. We opted to go with the birch plywood. Birch is a really durable product (not quite as durable as oak but more durable than pine) and is a really beautiful product. It will probably stain a bit darker than oak but we think it will be really close (crossing our fingers).
A few disadvantages of using birch plywood:
1.) The panels are big and heavy! Although we have a table saw, we were worried about running the big bulky panels through it without accidentally making crooked cuts. This is speaking from past experience. Either the person(s) sliding the material through the saw shifts weight and cuts the wood crooked or the saw moves and really messes things up... and we aren't skilled enough to avoid either of these issues with that large of a piece of wood.
- What we did:
We used a clamping straight edge designed for use with a jig saw, router or skill saw and cut the pieces with a skill saw.
- What we would do in the future:
We had the birch delivered before the wood for the foot rest... so I didn't know you could request that the wood be cut before being delivered. Better yet, you can pull the wood yourself, take it back and supervise the cuts, then have them deliver it. This would have saved us a few hours worth of work. Setting up each cut the way we did, took a little time and head scratching.
2.) The edge of the wood looks like plywood (you see the various layers of wood sandwiched together). We knew that we would only have one exposed end, just above the glass rail facing away from where people would be sitting. So we decided to just add a strip of oak banding on this unfinished edge (In the store this type of milled product is called Screen). It worked great and really finishes the bar top.
Items Accomplished:
- Installed Bar Sub-Top
- Installed Bar Top
- Installed Glass Rail
- Installed Drip Edge on Glass Rail
- Installed Bar Rail
- Installed Oak Screen (3/4" Wood Banding) on Front Edge of Bar Top
There were a lot of steps to this mini-project and it took about two days to complete. We have quite a few pictures documenting the construction/assembly. We used the bar dimensions we found on Hardwood Inc's website and they worked great. Also, we are using their terminology for what each of the components are called (shown in the pictures below).
We ended up going with Minwax Jacobean
Notice Color Difference:
Oak on top, Pine on Bottom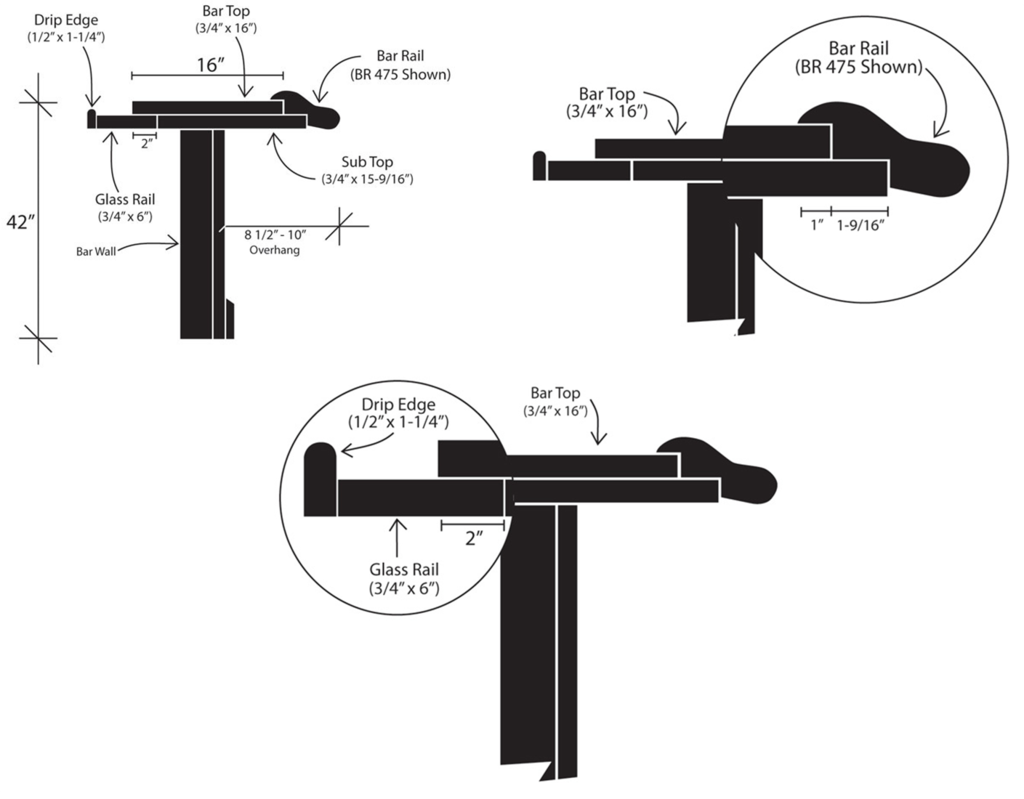 These are standard bar dimensions that we used.
Pictures obtained from the Hardwoods Inc website


The Cut Plan to get the Sub-Top and Bar Top out of
two sheets of birch plywood...
All the birch cut down to width
Figuring out spacing on either side of the bar and marking for the angle cuts
The cuts are approximately 22.5 degrees for the 45 degree corners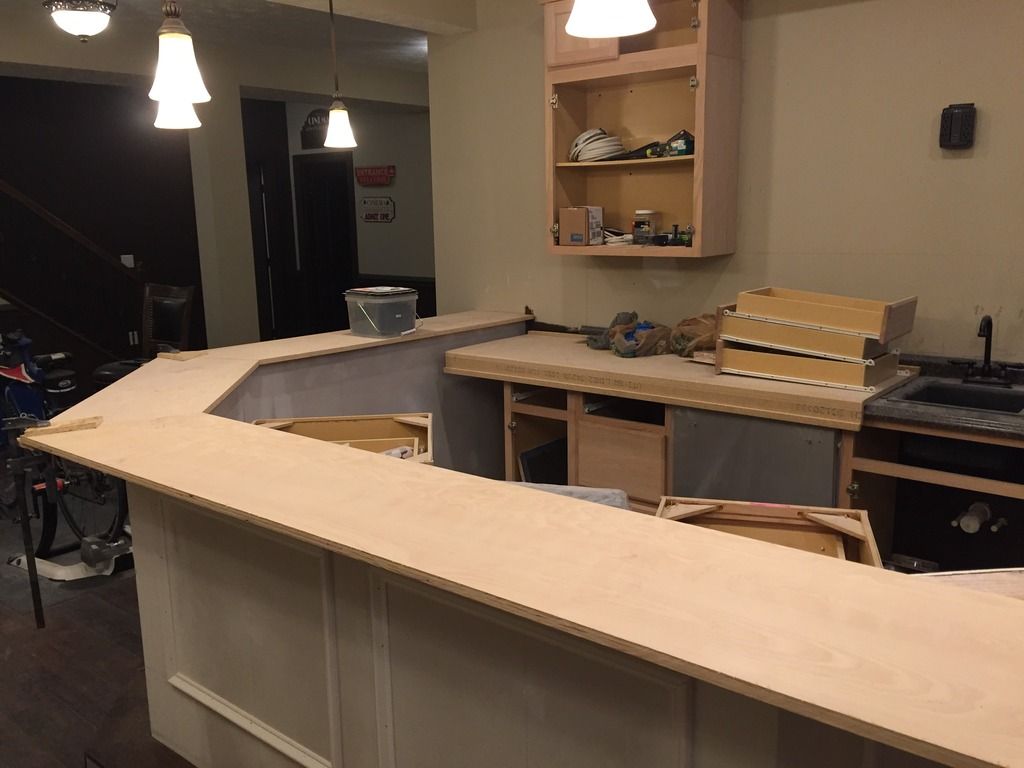 Sub-Top nearly finished being cut and fit (not glued or screwed down yet)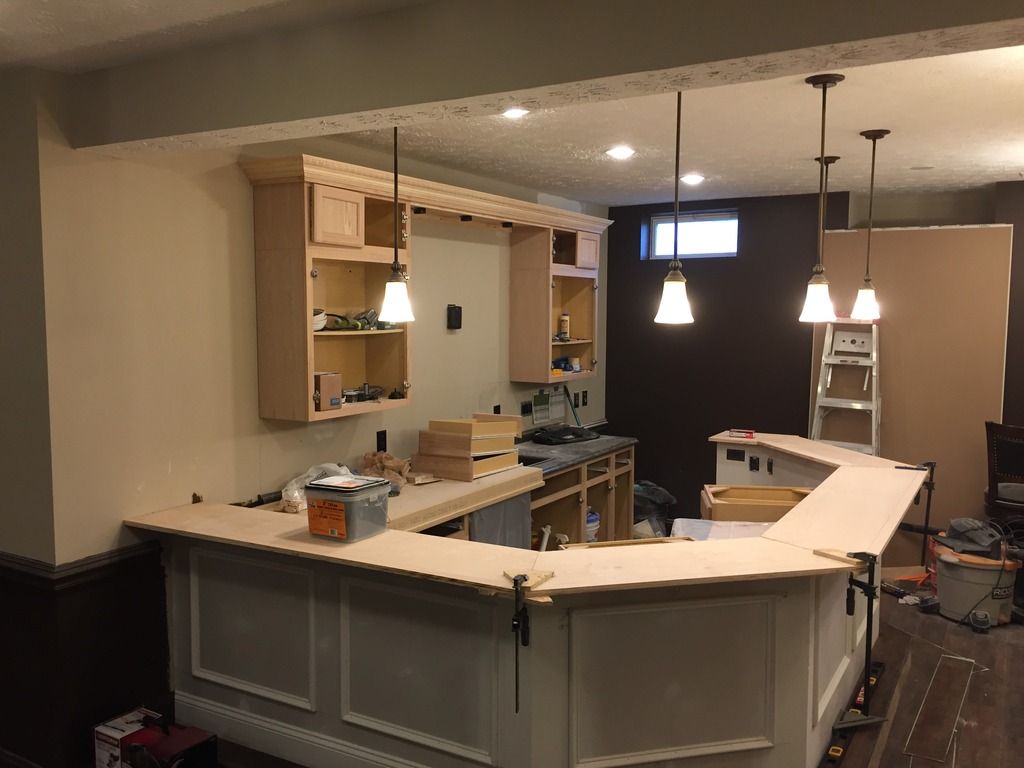 Pre-drilled countersunk holes every 6" to attach sub-top
Also marked the 1 9/16" forward location for
bar top (left side of picture) and bar rail attach point.

Decided to join the corners with biscuits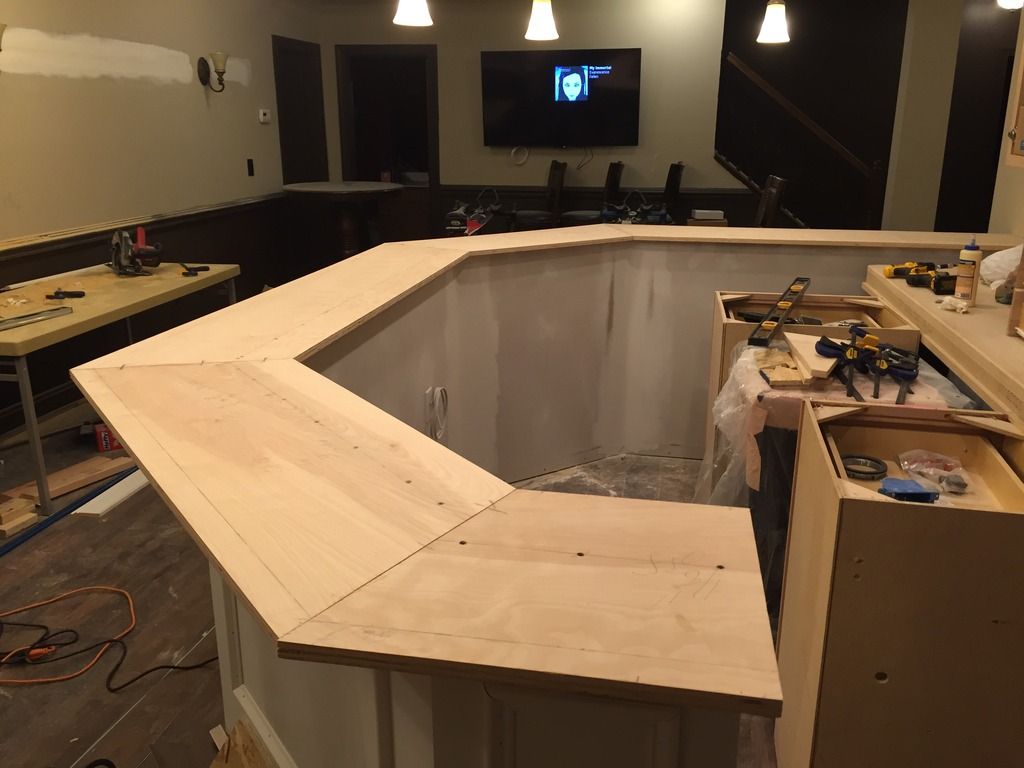 Sub-top glued and screwed to bar stub wall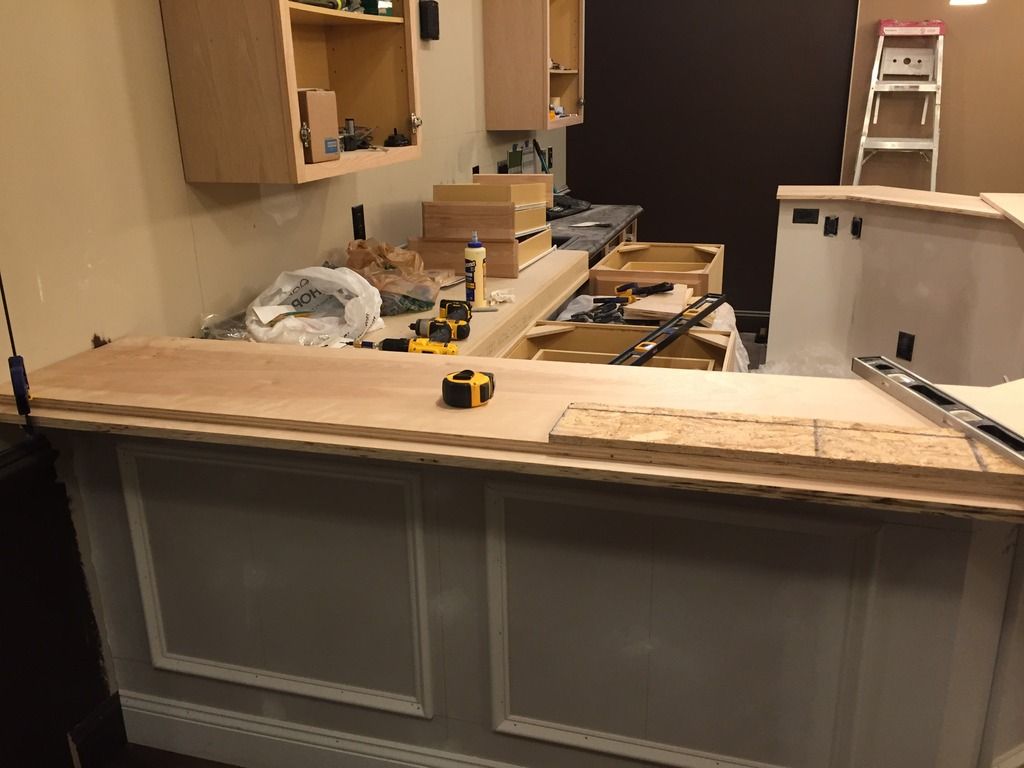 Fitting bar top and figuring out angles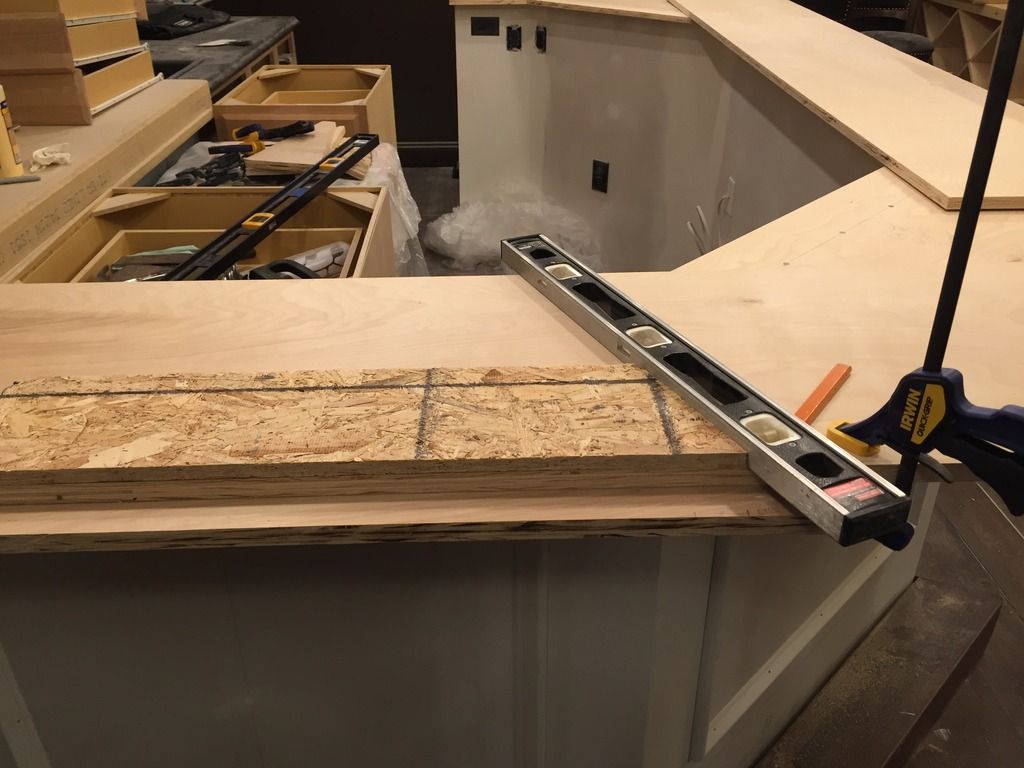 Cut this piece of OSB at 22.5 degrees and used it to find and mark the correct
angle and length of each piece. Again, if the wall was perfect, then this would
have worked perfectly but sadly it wasn't, so we still had some gaps.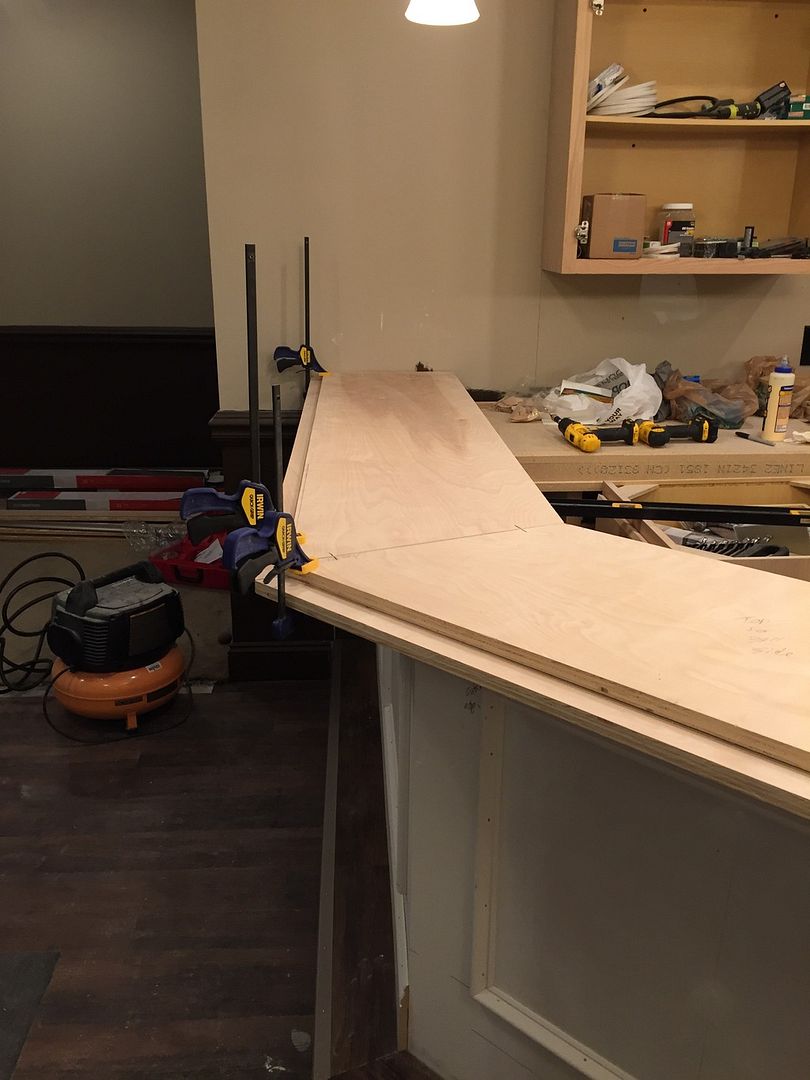 Notice the 1 9/16" step where the bar rail will go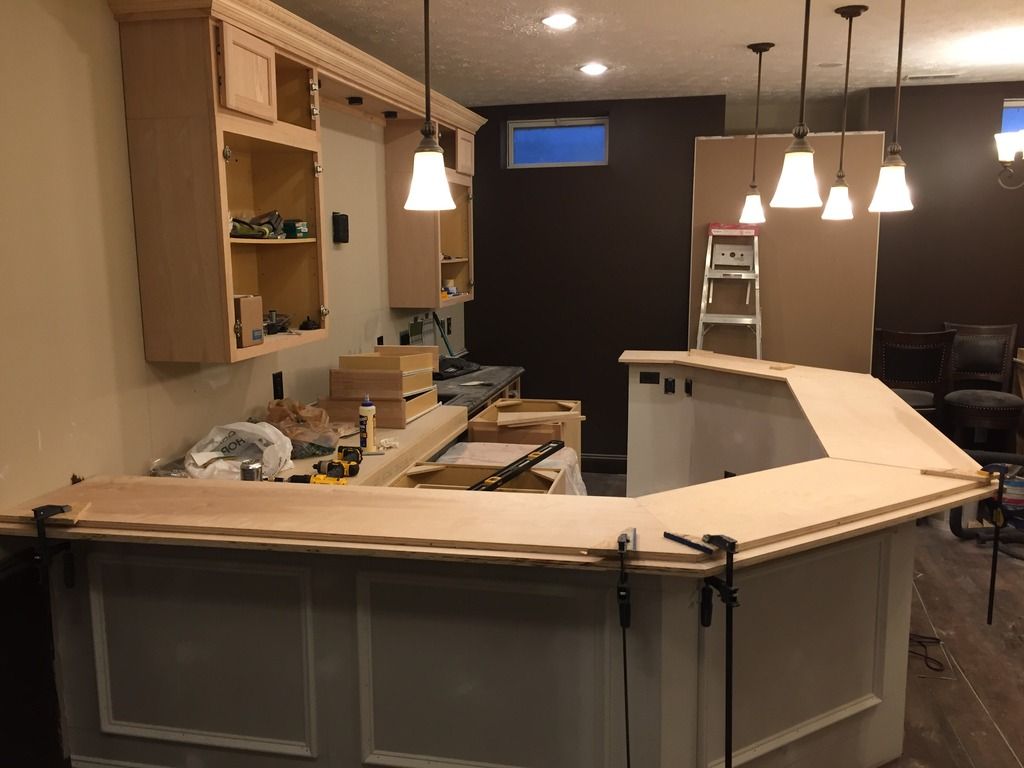 Bar Top Cut and Dry Fit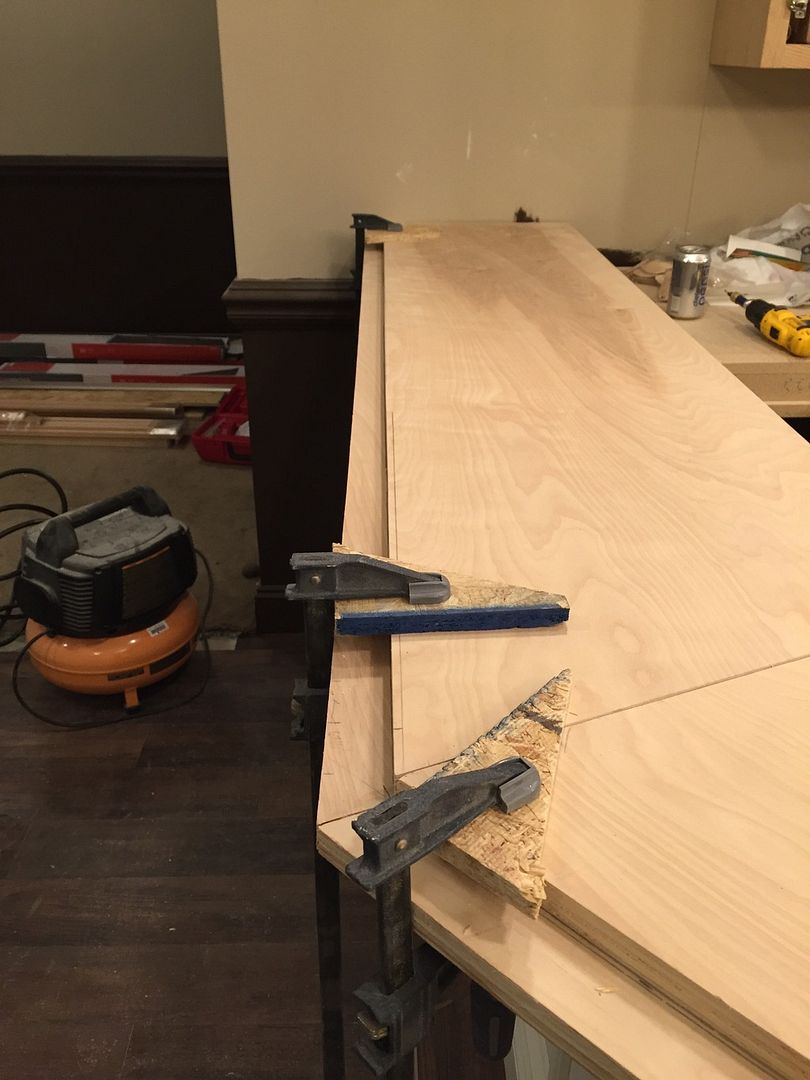 Bar Top glued on and screwed from underneath. Used
1 1/4" Screws every 9" on the front and every 12" on the back.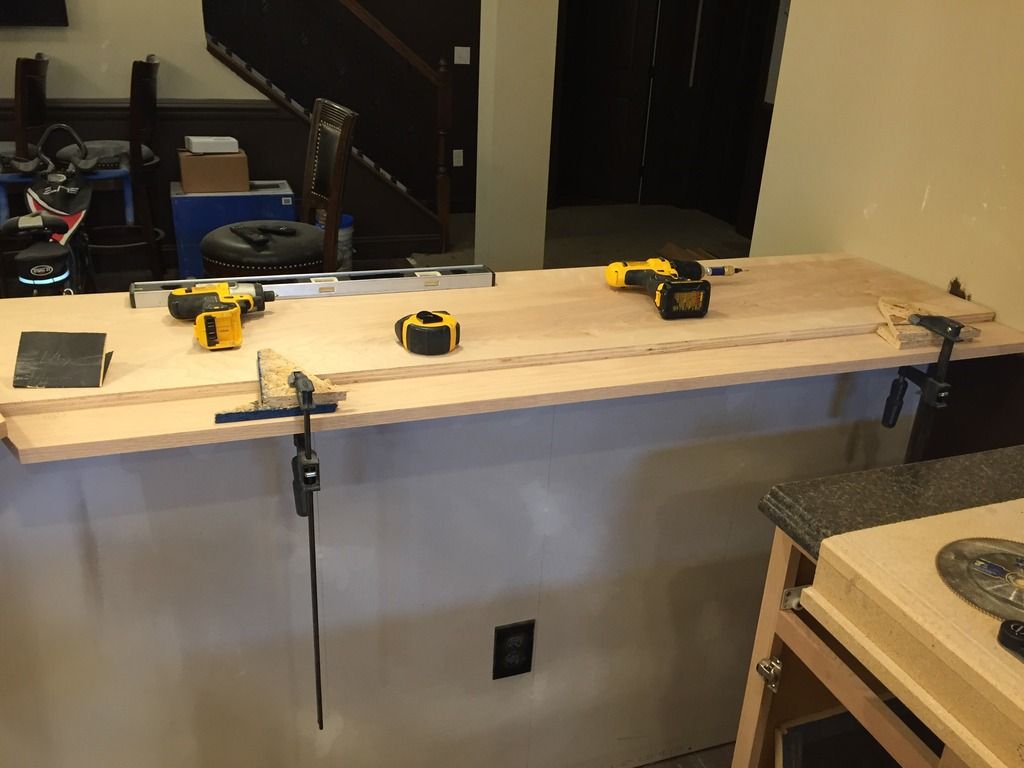 Started installing glass rail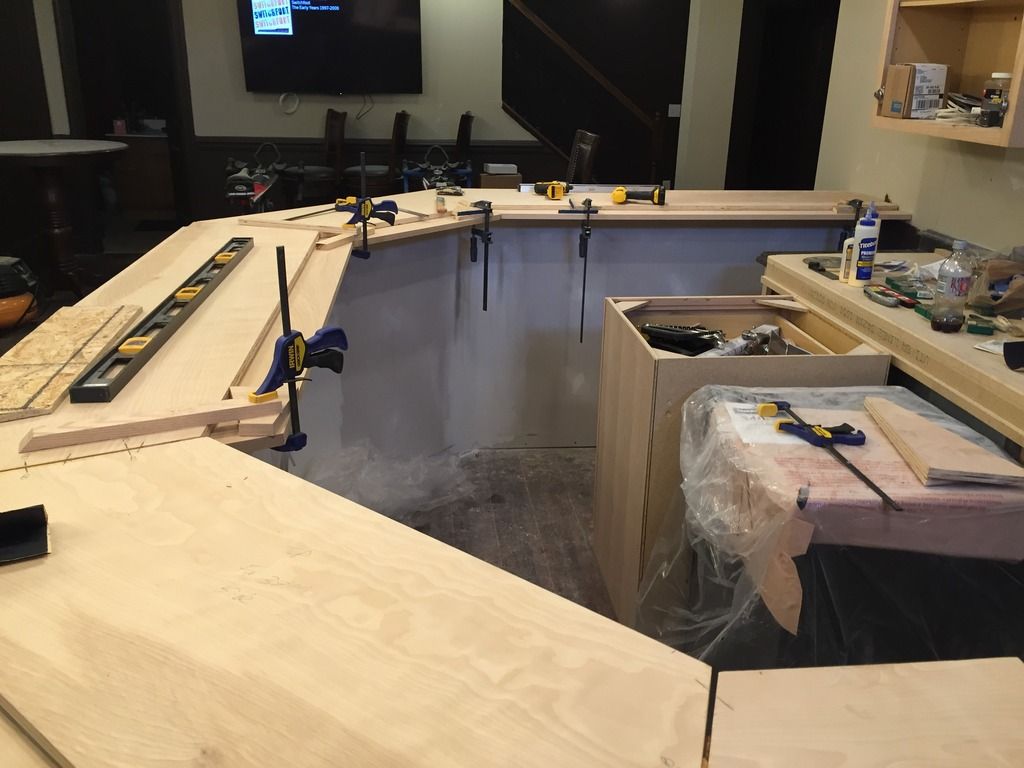 More Glass Rail fitting
Glass Rail glued and screwed in place. Screws every 12".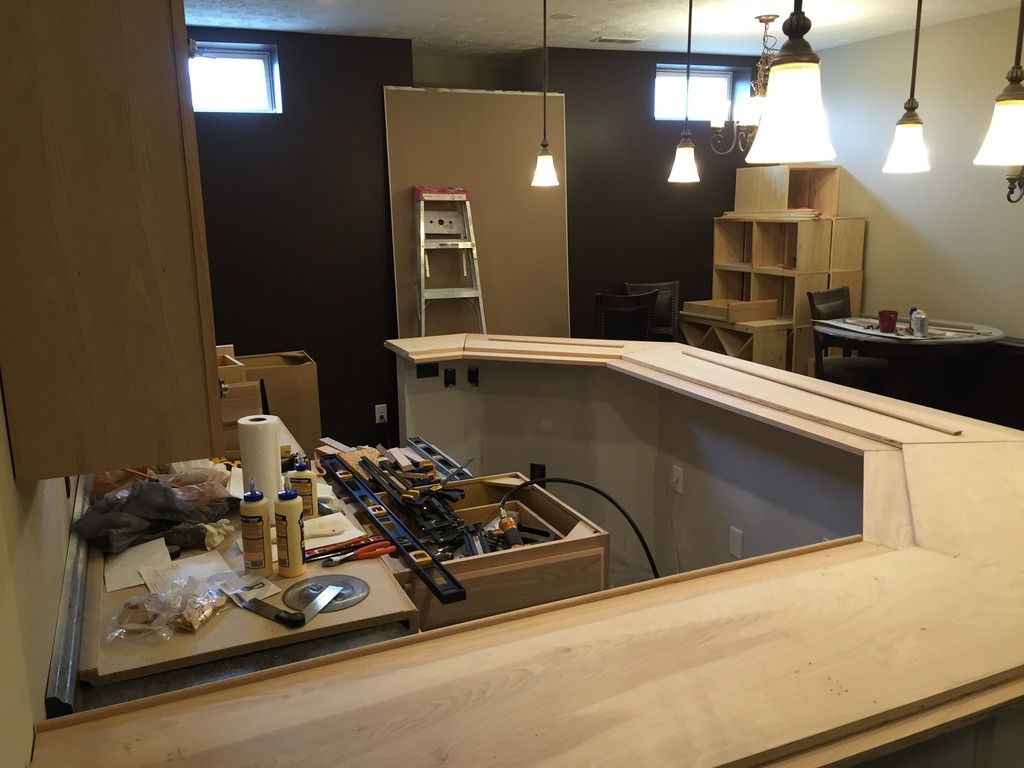 Started installed Drip Edge. Brushed on some wood glue and shot some
finish nails into the piece to hold it in place.
Drip edge all installed on the glass rail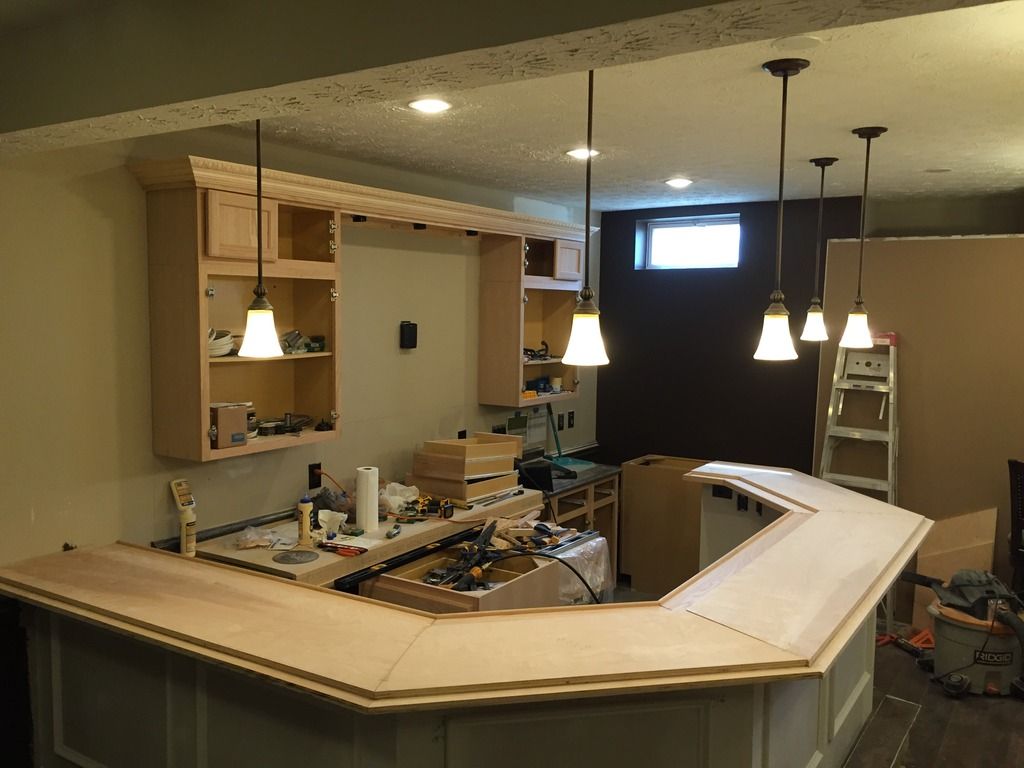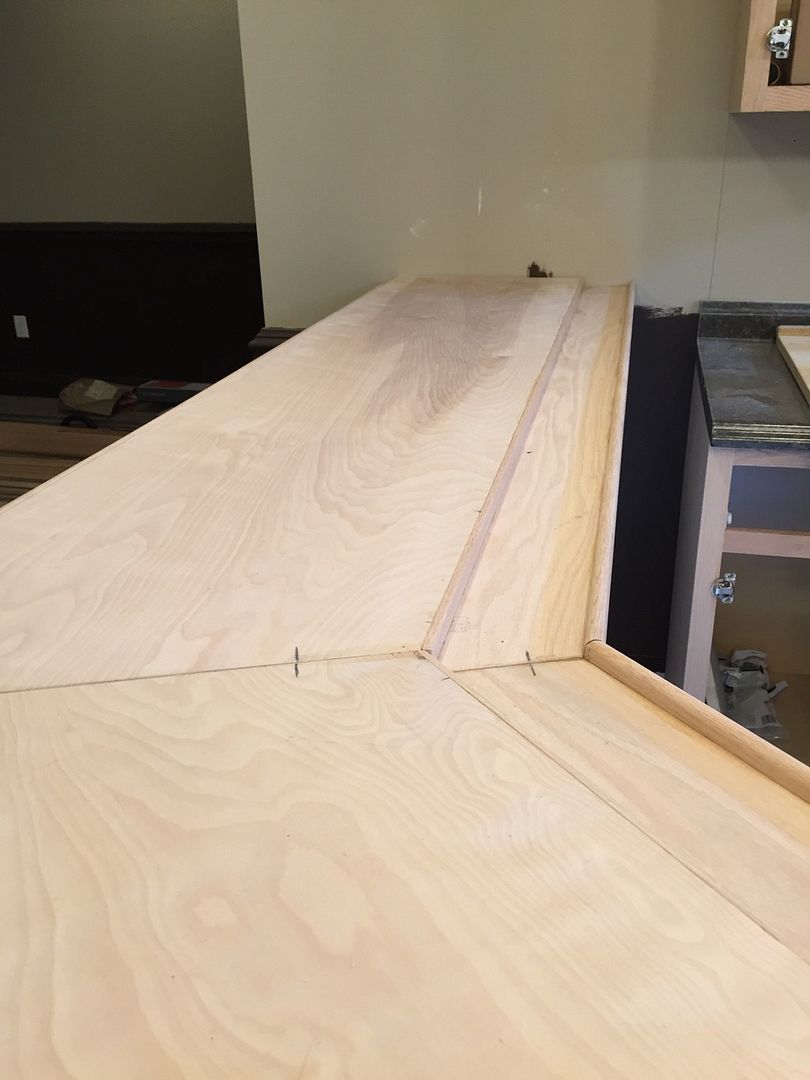 Installing banding on the unfinished edge of the birch plywood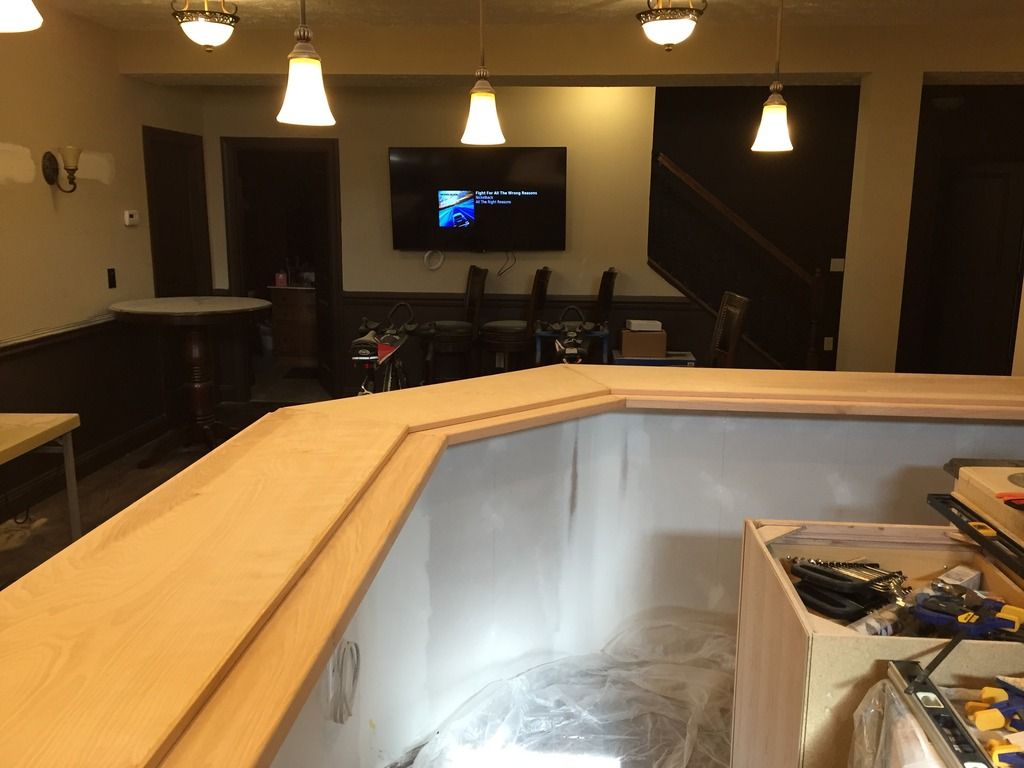 Banding all installed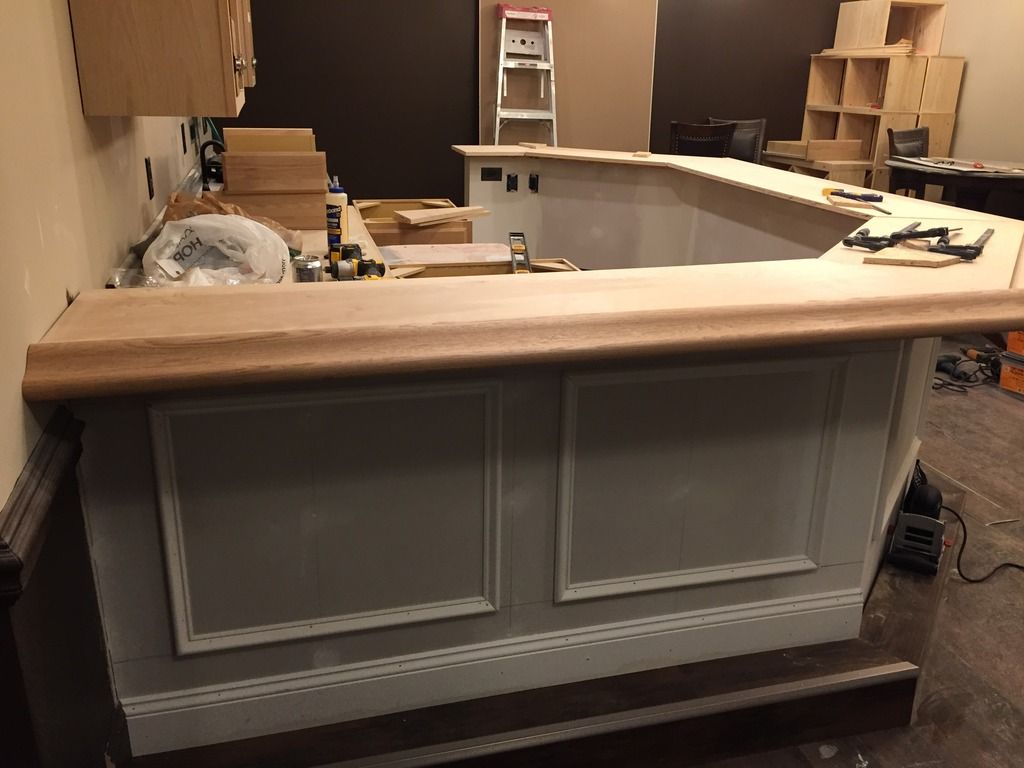 Test Fitting Bar Rail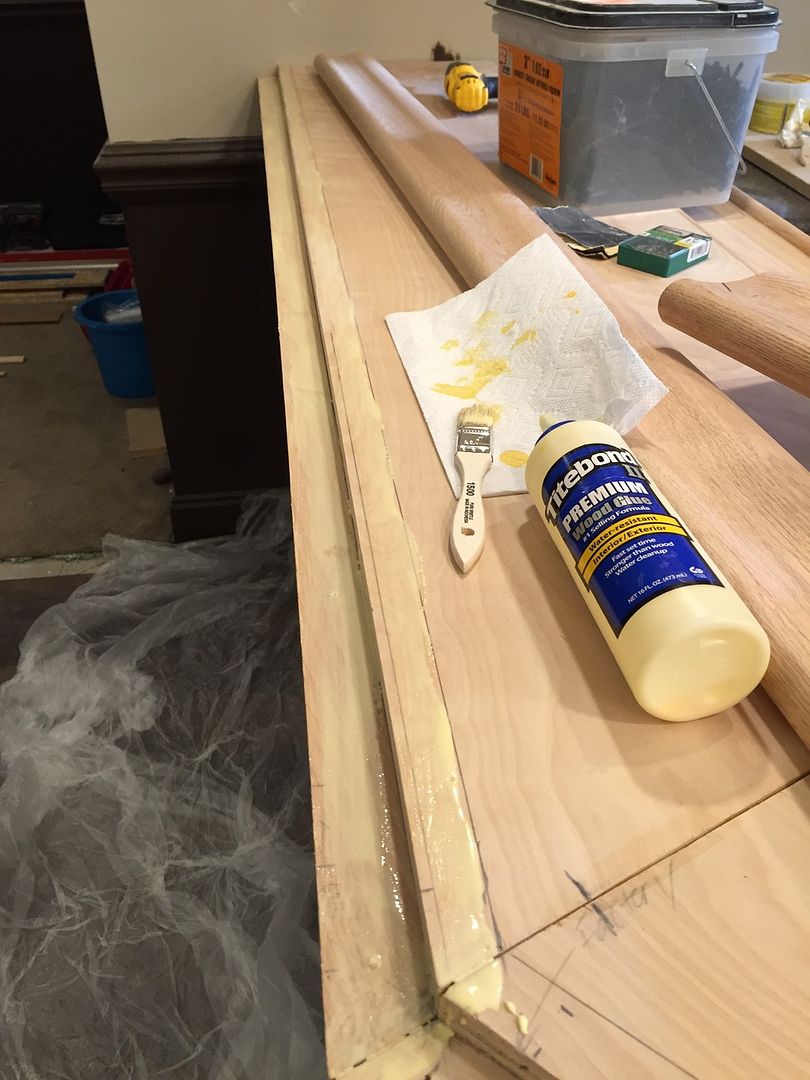 Used cheap .97 cent brushes to spread glue out.
Marked 1" back on top before painting on glue.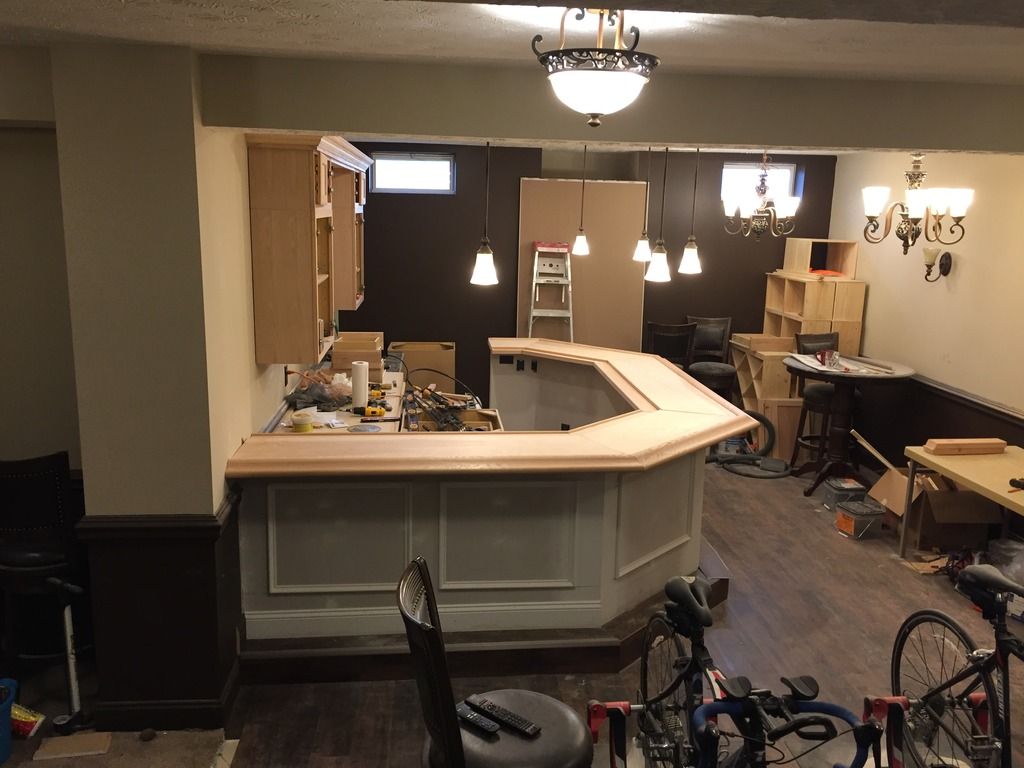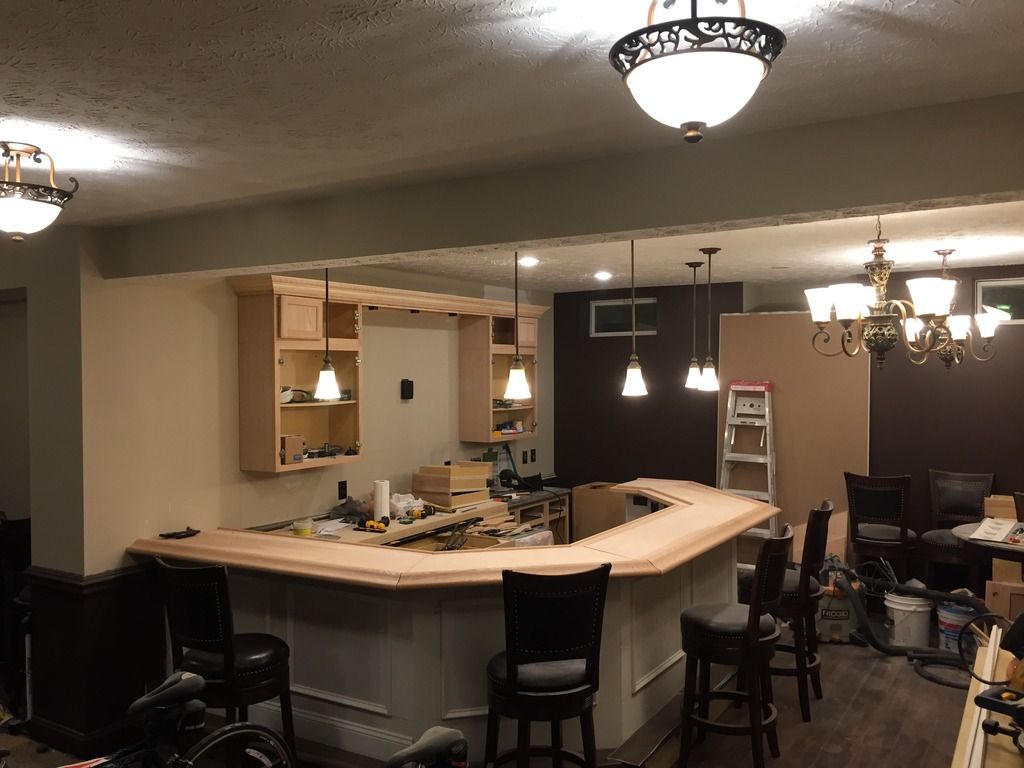 Couldn't resist. had to put some of the bar stools up there to see how it looked.