When we originally planned the bar we were going to do some custom shelving as the bar back much like what you would see in a typical bar. Then after sketching it out, looking at time, materials and thinking about how we planned on using the space... it made more sense to use stock cabinets. Although we were going to go with stock cabinets, we still wanted a custom feel... Didn't want it to look too much like an apartment kitchen. Haha. So we decided to create a sort of bridge between the two sets of upper cabinets. We think it turned out pretty good (well it looks good from 10'... which is good because we have 9' ceilings!).
Items Accomplished:
- Finished patching holes made from running wires on bar back
- Mounted 12" Tall Upper Cabinets to 30" Uppers and Wall
- Alignment isn't great due to wall being crooked. Will need to sand faces a bit before staining
- Built Bridge above cabinets
- Wired and installed rest of above cabinet and under bridge Xenon puck lights
- A little concerned that although the lights under the bridge will provide task lighting for the bar sink and counter top, they might cast a glare on the TV going in between the cabinets. Originally, these 3 lights were going to be on a separate switch but we ended up putting them on the same one as the rest of the puck lights.
Ran a piece of Red Oak 1x2 across both upper cabinets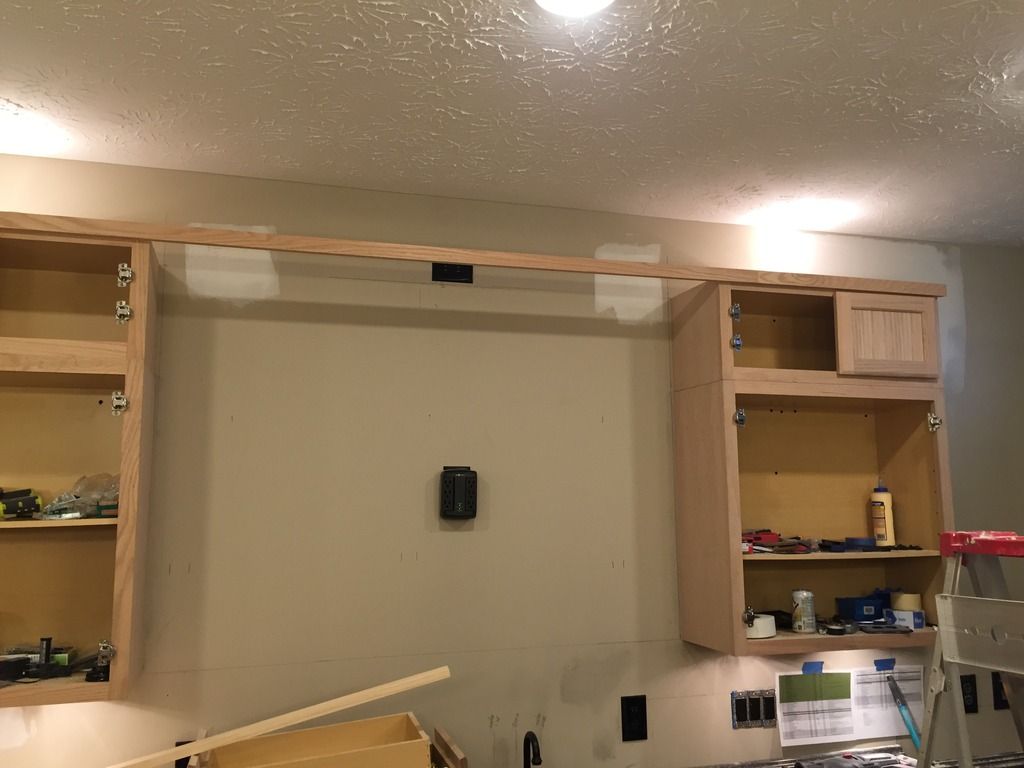 Had to scarf in a 2' section on right. You can see it up close but from a distance
it's tougher to see. Will need to sand down a bit to hide joint.
In this pic you can see the gap between Oak Veneer on the 12" and 30"
cabinets. These panels come in 12"W x 30" H sheets. Unless you want
to buy and cut a 4'x8' sheet. So we will be putting a piece of trim over the gap.
Crown installed. Again there is a splice on the right side... which you can see
up close. Still need to do some glue magic to hold the two pieces together.
Those doors r just loosely put in place to get spacing. They're not adjusted.
Crown finished and panel in middle installed
Probably going to add some cove molding on that piece in the back with
the screws.
Puck lights installed and wired

All Lit Up!!! Of course in person it doesn't look like you have 5
spot lights on the ceiling. The naked eye just sees a light glow!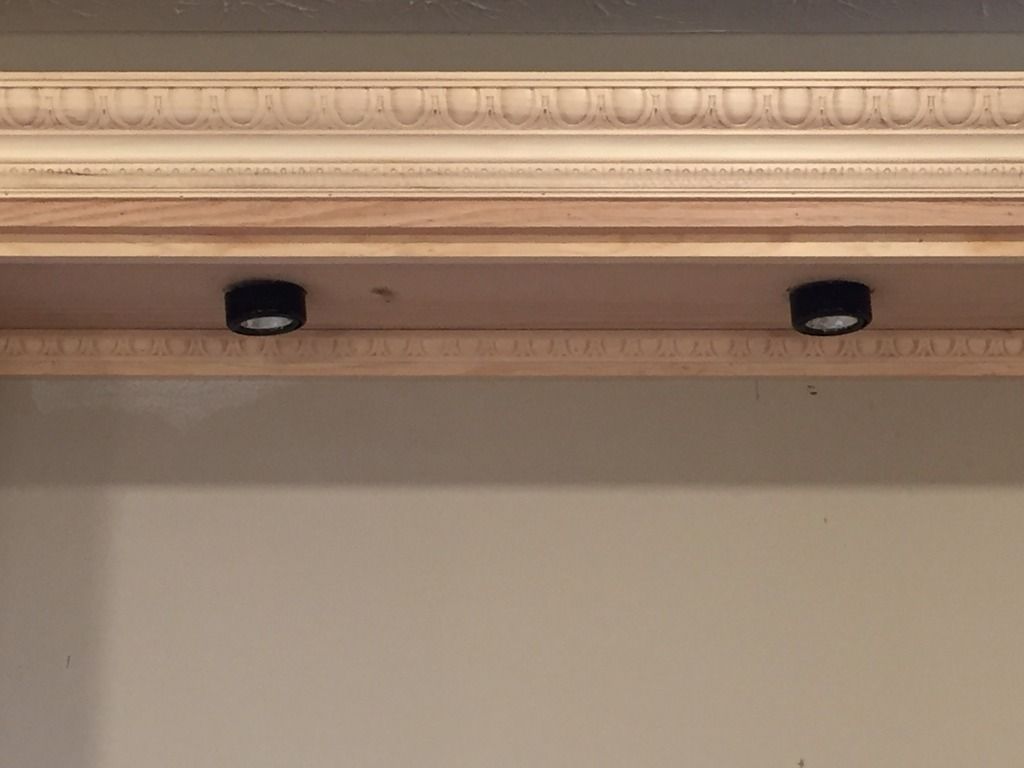 Added a decorative trim piece to back to dress up support piece
Close Up Shot of Trim... Don't look too close :-(