First of all...we are 2/3rds of the way there. 1/3rd to go!!!
The huge dumpster was removed from the front yard...YAH!
The concrete crew should be out sometime next week to set the forms for the sidewalks and driveway. It will be nice to see something other than dirt and rock in the front of the house. Although, I do remember being excited over the long orange silt screens and an egress window sitting on an empty lot. :)
The roofers apparently came by and finished their job, so the siding crew should be able to finish the eves and fascia. I'm still not sure if they are going to put all the trim around our front door and foyer palladium window or not.
So next week:
- We should be wrapping up the trim inside
- Siding will be done
- Electricians should be in at some point next week to do their final work (Didn't show up today...I was doubtful they would be able to make it on such short notice due to the scheduling mix up.)
- Prep for Sidewalks and Driveway
- Hopefully we will see our vanity sinks
- Granite should be installed within the next week
- Somewhere in here should be the plumbers to install faucets and other fixtures
Other stuff:
Blinds:
- We had Home Depot come in and measure for blinds a week ago or so. We went in and purchased the blinds and scheduled installation. We didn't do every window because we have some odd ones that blinds weren't going to work on. The transom windows in our great room and the arched window above the tub in our master bedroom. Also, we have a weird 22" square window in our powder room. It sits up high enough where people will not be able to see in and it will give us light during the day (we have a shortage of windows in this house after all).
We ended up buying 25 of the Home Decorators Choice 2.5" faux wood plantation style blinds in white with the nicer crown valance. They're not as swanky as the Bali or custom blinds but they will give us a custom look at an affordable price (and they are not mini blinds). What I like is that the weekend we are moving in, someone will be installing blinds on all my windows and we will not have to do the work...and for $118 to measure and install 25 blinds (that's less than $5 per blind)...thank you sir.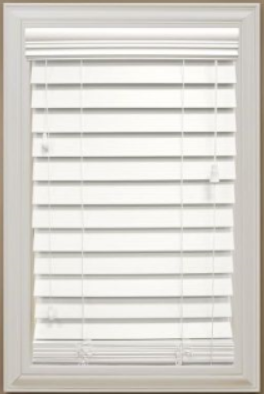 Movers:
- We also scheduled Two Men and a Truck. In our area, they charge $100hr Mon-Thur and $113hr for Sat and Sun. Of course we are closing around lunch time on a Friday. We are going to move most of the small stuff and just have them move the big furniture. They estimated between 5 and 6 hours or $678. Honestly of all the money I've spent this year, this will be the best $700 I've spent.